Rebel Recipes Synopsis
'What a ridiculously good book! From belly-busting breakfasts and mega mains to decadent desserts, Rebel Recipes has the lot!' Henry & Ian, BOSH Get ready for vegan food like you've never tasted before! You won't find any limp lettuce or boring old-school vegan dishes here. Instead, within these delectable pages, Niki Webster gathers some of her favourite recipes for her rebellious debut book. Expect to find all kinds of awesomeness, such as: mouth-watering spicy Indian crepes baked aubergine with cashew cheese and pesto sweet potato, cauliflower and peanut stew and chocolate cherry espresso pots It's deliciously indulgent plant-based food like you've never experienced. Based on the hit blog of the same name, Rebel Recipes is the debut book for Niki Webster, an exciting food writer who has worked with brands like Waitrose, Holland & Barrett and many others. Rebel Recipes is unashamedly about taste; it's all about pleasure, vibrancy and flavour - food for the soul that happens to be good for you (and the planet) too. Vegan food has never tasted so good.
Rebel Recipes Press Reviews
What a ridiculously good book! From belly-busting breakfasts and mega mains to decadent desserts, Rebel Recipes has the lot! * Henry & Ian, BOSH! * From avocado pizza to rainbow coleslaw, vegan recipes has a new master creator * Independent * There are few people I draw as much inspiration from and this Rebel is one of them! Genuine and tenacious in her delivery, Niki consistently smashes it outta the plant park! Her recipes and creations are a gift. Every single time! I can't wait to get stuck into this and learn more. Not gonna lie, I've got my eyes on those desserts! * Derek Sarno, author of 'Wicked Healthy' * Niki's book is an inspiration, delicious vegan meals that are all inclusive. Food that is achievable for every home cook but also aspirational for the confident home chef. The chana masala is already a favourite in the Edwards household and I know for sure that I'll be revisiting this book time and time again. * Dean Edwards * Crammed with recipes that inspire rather than intimidate. * Prima * This is new-school vegan cuisine for those seeking full flavours. -- Stacey Smith * The Independant * There is a recipe for every taste... no matter if you are vegan or not. * The Bristol Post * The recipes in this horizon-expanding book, which shares its title with Niki's blog, are vibrant and colourful. * Choice Magazine *
About Niki Webster
Niki Webster is an award-winning blogger and food consultant for a range of household brands. Niki is no stranger to developing recipes, food styling, photography and content strategy, and her customers include Holland & Barrett, Wholefoods and Waitrose among others. She has also developed menus and recipes for restaurants and cookbooks alike. Niki is a certified Holistic Health Coach, and Plantlab Level 1 Raw Chef who regularly coaches, gives workshops, and appears on panels. She has appeared in the Independent, Grazia, Women's Health, Red, Vegan Life and Vegan Food and Living. Niki lives near Birmingham, UK, with her husband, but spends as ...
More About Niki Webster
More Books By Niki Webster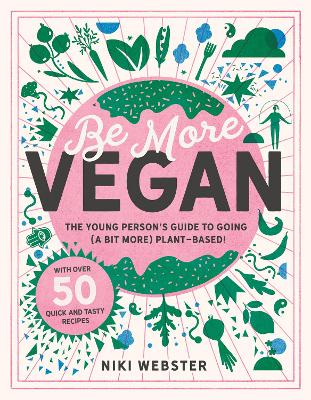 View All Books By Niki Webster