LoveReading Expert Review of Black and Blue
This powerful, prescient memoir by a former female Met chief superintendent is shot-through with the author's courage as it exposes racist and sexist prejudice in the police force.
Suffused in the author's courage and lifelong commitment to justice, Parm Sandhu's Black and Blue is a powerfully personal and pertinent account of her life through a thirty-year career in the Met - a distinguished career that saw Sandhu vilified and confronted with accusations of gross misconduct when she spoke out against discrimination.
Told in an engaging, personable style, we are taken on the author's extraordinary journey from her childhood in Birmingham as the daughter of Punjabi immigrants, to securing a position in the highest ranks of the Met. Forced into an abusive arranged marriage at the age of sixteen, Sandhu - remarkably - fled to London with her baby boy and joined the police, where she shone in multiple departments, from crime prevention, to the police corruption unit, to counter-terrorism. But, while rising through the ranks to become the most senior BAME woman in the Met, Sandhu witnessed and experienced countless incidences of racism and sexism.
Revealing much about police procedures, the pressures and dangers Sandhu faced on a daily basis, and prejudice within the force, this is, above all, a powerful, page-turning - and often shocking - story of courage. It's essential reading for those interested in the state of policing Britain, and for readers who enjoy memoirs with inspirational bite.
Black and Blue Synopsis
At the point of her retirement from the Metropolitan Police Service in 2019, Parm Sandhu was the most senior BAME woman in the capital's police force. She was also the only non-white female to have been promoted through the ranks from constable to chief superintendent in the Met's entire history.
In this enthralling memoir, Parm chronicles her journey from life on the outskirts of Birmingham as the fourth child of immigrants from the Punjab to the upper echelons of the Met. Forced into an abusive arranged marriage aged just 16, Parm made the decision to escape to London with her newborn son and later joined the police as a constable.
During her thirty-year career, Parm worked in everything from crime prevention to counter-terrorism, and she also served in the Met's police corruption unit. She played a senior organizing role in the London Olympics and was the superintendent on duty when Lee Rigby was beheaded in the street in Greenwich.
However, Parm's time on the force was chequered throughout with incidents of racial and gender discrimination, and, after deciding to make a stand, she found herself facing a spurious charge of gross misconduct. Black and Blue tells her shocking story and of her quest for justice in her police work and for herself. It is a story that cannot fail to inspire anyone who has experienced prejudice or abuse of any kind.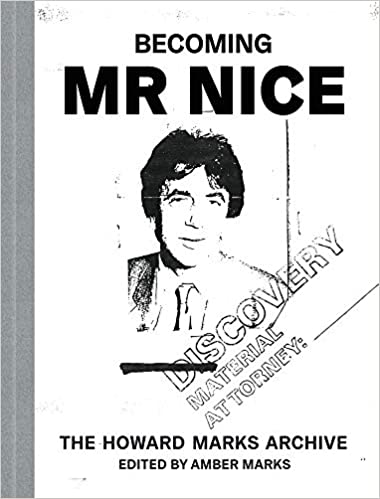 Peppered with comic observations from Howard's private letters, this book provides a uniquely personal insight into one of Britain's most remarkable characters. Becoming Mr Nice is the essential companion volume to Marks' million-copy-selling autobiography Mr Nice and a comprehensive, illustrated introduction to Howard Marks for a new generation. Becoming Mr Nice by Amber Marks is released on the 26th August and to celebrate, we're working with No Exit Press to offer a copy of the book and some official merchandise. This draw is open only for UK residents currently in the UK and is free to enter, multiple entries from the same email address will only be counted once. The draw closes on 26th September 2021. Please ensure that the details you use to enter the competition will be correct at the time the competition ends. The winners will be notified as soon as possible.
What To Read After Black and Blue
Parm Sandhu Press Reviews
Parm Sandhu's story is an inspiration to anyone who has found themselves struggling against adversity.
It's also a page-turner which everyone who cares about policing and justice in Britain should read. -- Meera Syal
A captivating exhibition of courage and conviction, Sandhu's story is an inspiration for those facing prejudice and a revelation for those in the dark. -- David Lammy MP
A brilliant book full of nail-biting tension and shocking statistics that make it hard to put down. It made me simultaneously angry and tearful. Parm's story leaps off the page and makes you want to walk every step of the way with her, to be her friend, to stand shoulder to shoulder with her. -- Andi Oliver
Black and Blue is a profoundly moving account of life as a senior police officer. It is essential reading for anyone who wants to understand our police service. -- Rob Rinder
Other editions of this book
About Parm Sandhu
Parm Sandhu joined the police in 1989 and rose through the ranks to become the highest ranking female Asian officer in the Metropolitan Police Service. Among many honours, Parm has been awarded Asian Woman of the Year, the Vasakhi Award (Mayor of London) and Sikh Women of Distinction (Sikh Women's Alliance). Stuart Prebble was for many years a leading television journalist, notably on ITV's World in Action programme, and later became CEO of ITV. He is now a successful producer and writer.
More About Parm Sandhu
More Books By Parm Sandhu
View All Books By Parm Sandhu