Oh my word, we are absolutely thrilled to welcome award-winning Clare Mackintosh as our Summer Guest Editor. We adore her books here at LoveReading. After the End is a particular favourite of mine, it's an extraordinary, powerful and beautiful read and sits as a LoveReading Star Book. Her writing really provokes thoughts and emotions, and that is certainly the case with Hostage, already out in hardback, and due out in paperback on the 23 June. It deservedly sits as a LoveReading Star Book and Book of the Month, and spends a lot of time in the air en route to Australia demanding that a flight attendant makes the most terrifying decisions. I really do love that previous Guest Editor Lindwood Barclay chose Hostage as one of his selections back in the Autumn. Clare's own topic choice as our Summer Guest Editor is fabulously relevant, I have to say that I was slightly surprised to find out where her favourite place to read is, eyebrows raised I certainly chuckled!
*
Clare Mackintosh is the multi-award-winning author of five Sunday Times bestselling novels. Translated into forty languages, her books have sold more than two million copies worldwide, have been New York Times and international bestsellers and have spent a combined total of 64 weeks in the Sunday Times bestseller chart. Clare lives in North Wales with her husband and their three children.
For more information visit Clare's website www.claremackintosh.com or find her on Facebook, Instagram and TikTok @ClareMackWrites plus Twitter @ClareMackint0sh
Welcome Clare…
***
Travel and books have always seemed the perfect combination to me. There have been periods in my life when I've struggled to find the time to read, and a long journey has been the perfect opportunity to get stuck into a good novel. Books are portals into other worlds, so what better place to enjoy them, than when travelling between two places?
When I was a child, we travelled mostly by car; my father behind the wheel and my mother handing out the sandwiches. Our holidays were taken in our caravan, and our packing discussions centred largely around how many books I was allowed to cram into the tiny locker allocated to me. My father would worry about weight, and my mother would tell me I absolutely wasn't allowed to sacrifice two pairs of shorts in favour of another Just William book, and I would nevertheless find a way to sneak them in. Blessed with an iron stomach, I happily read away the eight-hour drive to Scotland, before carefully rationing the rest of my holiday books, to ensure I had enough for the return trip.
Nowadays, I turn to audiobooks when I travel by car (that iron stomach having long-since departed). A good narrator makes a journey fly by, and I draw a geeky pleasure from selecting the perfect length audiobook for my travels. I often opt for audio when I'm flying, too, to avoid trying to balance a book, meal tray and glass of wine on my tiny tray table, and so I can press my face up against the window as we prepare for landing.
Planes are my favourite place to read, and you'll find me with a book in my hand from the moment I set foot in the airport. I'm adept at turning the pages of my book as I shuffle forward in a check-in queue, giving up reluctantly to pass through security. A delayed flight is simply an excuse to read more, and I'm incapable of walking past an airport bookstore without doing a spot of shopping. Just in case.
My locked room thriller Hostage takes place on a twenty-hour non-stop flight from London to Sydney. Writing it fuelled my obsession with travel-based novels, so it was a pleasure to curate this list for LoveReading. Why not pick one to suit your next journey? If you don't have travel plans, what better way to escape than with one of these brilliant books?
Happy travels!
The Lilac Bus by Maeve Binchy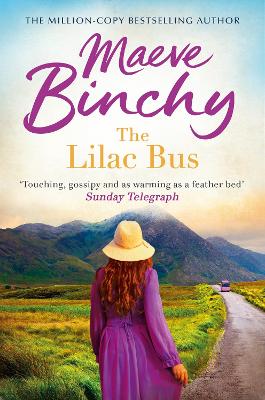 Put a writer on a bus, and I guarantee they'll spend the journey eavesdropping on their fellow passengers and inventing stories about where they're going. The Lilac Bus is eavesdropping in book form: a delicious slice of life in Ireland in the 1980s, recounting the stories of seven passengers who travel from Dublin to Rathdoon every Friday evening. Each has their own secrets and their own problems, and Maeve Binchy unravels them in the most perfect way. The characterisation is sublime, and although life is very different forty years on, the themes of small town gossip, relationships and betrayal are bang up to date. If you haven't read any Maeve Binchy yet, this is where I'd start.
The Woman in Cabin 10 by Ruth Ware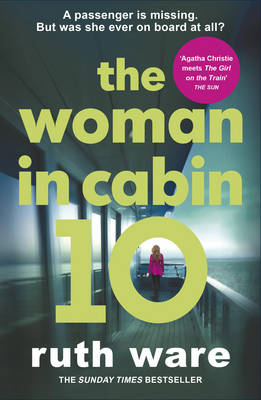 I'm a long-time fan of Ruth Ware's novels, and The Woman in Cabin 10 is one of my favourites. A locked-room mystery in the style of Agatha Christie, the story is set on a boutique cruise ship heading for the Northern Lights. Travel journalist Lo Blacklock – herself on something of an emotional journey – is woken by a scream from the cabin next to hers. She races to the window, just in time to see a body plunging overboard. But there's no record of anyone being allocated that cabin, and no passengers are missing. Is Lo losing her mind? A brilliantly claustrophobic mystery with a cracking twist you'll drive yourself mad trying to figure out.
Snap by Belinda Bauer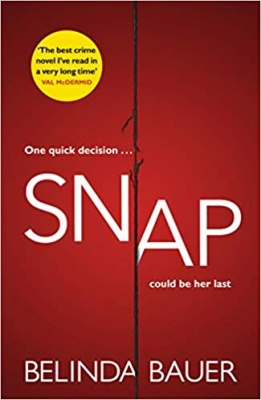 It came as no surprise to me when Snap was longlisted for the Man Booker Prize in 2018, because Belinda Bauer is one of the most talented writers on the literary scene. The novel starts on the hard shoulder of a motorway, as Jack and his sisters wait by their broken-down car for their mother to walk to a phone and fetch help. Only she never returns. This terrible moment shapes the future of the three children, particularly Jack – now 14 – who takes on the role of carer. Belinda Bauer has created such an emotionally complex character in Jack, and I defy you not to root for him. Snap didn't bag the Booker, but it's an out-and-out winner for me.
The River by Peter Heller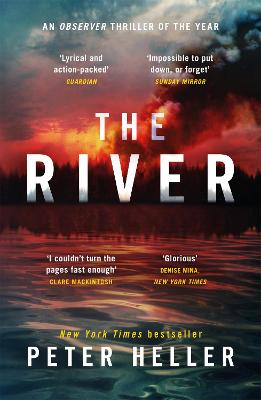 One of the most beautiful explorations of male friendship I've read, The River centres around Wynn and Jack as they paddle their canoe across Canadian rapids, during an 'off grid' holiday of a lifetime. The two men hear a couple embroiled in an argument, somewhere within the forest bordering the river. Soon afterwards, they see smoke and they realise a fire has broken out and is heading towards them. Wynn and Jack turn back to warn the couple they heard, but find only a man, who claims to have lost his wife in the forest. Wynn's and Jack's adventure quickly turns into a race for survival, where nothing is as it seems. Part thriller, part literary novel, Heller writes with emotion and depth, and I couldn't put this down.
Do You Dream of Terra Two? by Temi Oh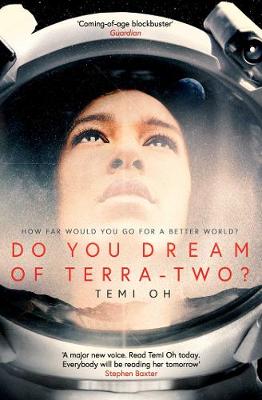 This extraordinary debut takes place on a spaceship, run by ten astronauts. Six of the crew are teenagers. They've been selected from thousands of applicants, given years of specialist training, and pitted against other students in a survival-of-the-fittest race to the top. Now they're ready for a mission that will see them leave their entire lives behind. The journey to the planet of Terra Two will take twenty-three years, with no guarantee of what they'll find when they get there. This is a coming-of-age story; a contemplative, dystopian look at the world in which we live, and the place young people have in it. I've never read anything like it before or since.