Comedy Women In Print Prize
To find out more about the shortlisted books just click on the award category you are interested in.
The brainchild of award-winning comedian Helen Lederer, Comedy Women in Print (CWIP) will celebrate and support female comedy writers.
Comedy writing is a powerful tool, yet comedy writing by women is under-acknowledged. The prize will bring forward the next generation of female talent as well as shine a light on women who have an established comedy writing career. Female comedy writing can be given a respected place within the canvas of British wit on the page.
More needs to be done to celebrate the achievements of women excelling in this field and to nurture and support the diverse voices of the next generation of witty female writers.
There has never been a more expedient time to support the witty voices of women.
For more information, visit www.comedywomeninprint.co.uk. You can also follow the prize on social media @CWIPprize
Winner: Dial A For Aunties
Packed with pace, crazy farce and outlandish one-liners, Jesse Sutanto's Dial A for Aunties is a laugh-every-few-lines black comedy, driven by undying family support, and a simmering "will-they-won't-they?" love story. Photography student Meddy has been set-up on a date by her well-meaning, larger-than-life mum and Chinese Indonesian aunties. Despite ...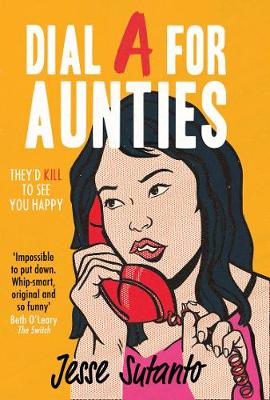 The 2021 Published Novels
Shortlisted Books
Longlisted Books
Comedy Women In Print Prize Archive
Click on a year below to view past years from this award.