Former London teacher Hannah Lowe takes the £30,000 prize with her book of sonnets about teaching, learning, growing up and parenthood.
The judges described the winner as "a book to fall in love with".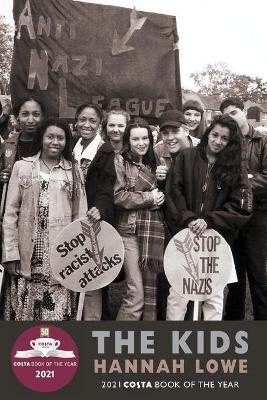 The Kids is the ninth collection of poetry to take the overall prize and the second Book of the Year win for independent publisher Bloodaxe Books, following Inside the Wave by late author and poet Helen Dunmore in 2017.
The Kids is a book of sonnets about teaching, learning, growing up and parenthood. It draws on Lowe's decade of teaching in an inner-city London sixth form during the 2000s, as well as on her own coming of age in the riotous 1980s and 90s and concludes with poems about her young son learning to negotiate contemporary London.
BBC News journalist and broadcaster Reeta Chakrabarti, Chair of Judges, said:
"After a long and passionate discussion that reflected the quality and complexity of all five books, one winner emerged. Hannah Lowe's The Kids is a book to fall in love with - it's joyous, it's warm and it's completely universal. It's crafted and skilful but also accessible. Words from the judges were 'insightful', 'empathetic', 'generous', 'funny', 'compassionate', 'uplifting'. You will love it!"
Chakrabarti chaired a final judging panel that included: writer, broadcaster and Literary Salon founder Damian Barr; author Jessie Burton; poet and copywriter Rishi Dastidar; novelist, memoirist, and filmmaker Xiaolu Guo; author Smriti Halls; tennis coach Judy Murray; broadcaster and Editor in Chief of The Frank Magazine Melanie Sykes, and novelist, biographer and journalist Andrew Wilson.
Lowe beat the bookmaker's favourite - bestselling novelist Claire Fuller, and her fourth book, Unsettled Ground – to win the overall prize of £30,000.
The other three category Award winners in the running included: journalist-turned-author John Preston for Fall: The Mystery of Robert Maxwell, a biography of the media mogul and former MP, British-Ghanaian short story writer and photographer Caleb Azumah Nelson for his first novel, Open Water, and actor, director, charity founder and children's author, Manjeet Mann for her second work of YA fiction, The Crossing. To mark the 50th year of the Awards, each author received a bespoke certificate specially created, designed and produced by leading letterpress studio, The Garage Press, featuring traditional hand-printed elements using a vintage press merged with digital production techniques.
Jill McDonald, CEO of Costa Coffee, said: "On behalf of all of us at Costa Coffee, many congratulations to Hannah Lowe for winning the 2021 Costa Book of the Year in this, the Awards' milestone anniversary year. For many of us, our reading patterns have changed since the pandemic. We've had the opportunity to read more and appreciate the joy of reading a good book and the escapism it can bring, especially when accompanied by a great cup of coffee. The perfect partner! Being named Costa Book of the Year is a terrific achievement and I wish Hannah and the book every continued success."
Also announced at the ceremony was the winner of the 2021 Costa Short Story Award. L.E. Yates, a London-based writer and lecturer, won the public vote and £3,500 for her story, Sunblock. Two runners up – Matthew Hurt from London and Lindsay Gillespie from Lewes – received £1,000 and £500 respectively.
The shortlist of three stories was selected by a panel of judges comprising: Sarah Franklin, founder of Short Stories Aloud and Senior Lecturer in Publishing at Oxford Brookes University; BBC Radio 2 Book Club producer, Joe Haddow; literary agent, Simon Trewin, and bestselling authors Adele Parks and Kit de Waal, herself a finalist for the Costa Short Story Award in 2013. The stories were then made available on the Costa Book Awards website for the public to download and read, and then vote for their favourite.
For more information, visit: www.costabookawards.com