The Rathbones Folio Prize is expanding to include three more categories in an effort to partly fill the void created by the closure of the Costa Book Awards.
Previously celebrating all works of literature regardless of form, the annual prize has introduced three distinct shortlists for fiction, non-fiction and poetry. Each category winner, selected from a shortlist of four, will receive a £2,000 prize and will be in with a chance of winning the overall Rathbones Folio Prize, receiving an additional £30,000.
Prize organisers said they decided to refresh its format to address "the changing landscape of literary prizes", including the discontinuation of prizes like the Costa Book Awards, which were abruptly scrapped last month. "Literary prizes are vital for writers and authors, celebrating the enormous achievements of both established and emerging writers, and providing writers a platform and crucial support for their work," organisers said.
The new Rathbones format appears to try and directly fill a gap left by the Costa Book Awards, which also had categories for fiction, non-fiction and poetry, alongside prizes for children's books and debuts. A winner from each of those categories would also be put forward for an overall Book of the Year award.
All the books considered for the Rathbones Prize will be selected and judged by an academy of peers, a process unique to the prize. Titles in the running will continue to be nominated by the Folio Academy, which is comprised of more than 300 writers.
Academy members will be asked for their nominations in September 2022, and category shortlists will be revealed in a reception at the offices of sponsor Rathbones Investment Management in early 2023, with the category and overall winners announced at a prize ceremony at the British Library in March 2023. A panel of judges featuring chair Ali Smith, Jackie Kay and Guy Gunaratne will select the winners.
The prize will continue to work with booksellers and bookshops to ensure ongoing support and placement for shortlisted and winning titles in bookshops, in addition to organising themed events both in the lead-up to the prize ceremony and throughout the year.
Executive Director Minna Fry and co-founder and chair of the prize Andrew Kidd, said: "We and our brilliantly supportive sponsor Rathbones are hugely excited about this new refinement and expansion of the existing format for the Rathbones Folio Prize. It will significantly aid what has always been this prize's ultimate aim: to help publishers and booksellers to put more of the best books being published today—as chosen by writers themselves—into the hands of more readers."
The Magician, by Colm Tóibín was awarded the 2022 Rathbones Folio Prize winner.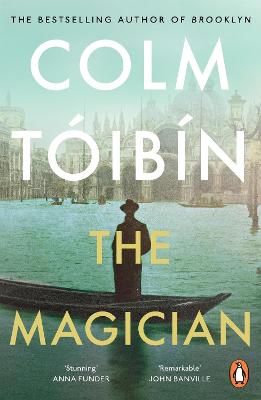 "a capacious, generous, ambitious novel, taking in a great sweep of 20th century history, yet rooted in the intimate detail of one man's private life" – Chair of Judges, Tessa Hadley