Read the opening extract of the brand new
Lucy Foley
book before its publication on 19/03/2018
'new gen' - Great Fiction for Young Adults
Especially compiled for Young Adults, this section is awash with wonderful worlds to escape to, great stories and characters you'll love. --------------------------------------------------------------------------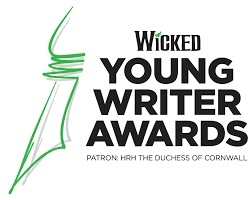 Here at Lovereading we are thrilled to be a partner for the Wicked Young Writer Awards, the free-to-enter, annual creative writing competition for 5-25 year olds which raises money for, and awareness of, the National Literacy Trust. Entrants can write on a theme or subject of their choice, so absolutely anything! It's your chance to get creative and write on any theme that interests you. Entries can be written at home or at school, and teachers are encouraged to enter writing on behalf of their pupils. The FICTION categories – 5-7, 8-10, 11-14, 15-17 and 18-25 - will accept any creative writing including a story, play, or poem. The NON-FICTION categories – 5-17 and 18-25 will accept an article, essay, biography, review or letter, to name just a few suggestions. For more details click here or visit www.wickedyoungwriterawards.com
Books of the Month
Things a Bright Girl Can Do
Sally Nicholls
February 2018 Book of the Month This inspirational novel about three young Suffragettes from very different backgrounds is at once a riveting character-driven read, and an outstandingly rich account of British social history between 1914 and 1917. Seventeen-year-old Evelyn is...
Format: Paperback - Released: 01/02/2018

Other Featured Books this Month
Scythe
Neal Shusterman
Wow! This was a gripping, thought-provoking read. Totally compelling, Scythe is a dark, original take on the ultimate power – the power over life and death. Death and disease have been eradicated and life can continue quietly without fear of...
Format: Paperback - Released: 01/02/2018

The Taste of Blue Light
Lydia Ruffles
February 2018 Debut of the Month | In a nutshell: angry, witty and ultimately life-affirming coming-of-age story The Taste of Blue Light establishes Lydia Ruffles as an exciting and original new voice in YA. We first meet her...
Format: Paperback - Released: 08/02/2018

Monsters of Men
Patrick Ness
A special anniversary edition, with a striking new cover design, to celebrate 10 years of the Chaos Walking trilogy. This is a spine-tingling, page turning read. Heaped with well-deserved awards, the Chaos Walking Trilogy comes to a brilliant conclusion in...
Format: Paperback - Released: 01/02/2018

The Ask and the Answer
Patrick Ness
A special anniversary edition, with a striking new cover design, to celebrate 10 years of the Chaos Walking trilogy. Prize-winning author Patrick Ness follows up The Knife of Never Letting Go with equally hard hitting The Ask and the Answer. Trying to...
Format: Paperback - Released: 01/02/2018

The Knife of Never Letting Go
Patrick Ness
In a Nutshell: "Knowledge is dangerous" Smart new edition of the book that changed the YA landscape and launched Patrick Ness as one of the most uniquely powerful writers of our time. The population of god-fearing Prentisstown has been reduced to a...
Format: Paperback - Released: 01/02/2018

Tender
Eve Ainsworth
In a Nutshell: Young carers learn to live for today Tender in both name and tone, this involving debut tackles tough themes with heart-wrenching honesty. Marty's mum struggles to get out of bed, while for Marty it's the going to...
Format: Paperback - Released: 01/03/2018

Young, Gifted and Black
Jamia Wilson
In a Nutshell: Inspiring celebration of black trailblazers This inspiring, illuminating, stylishly accessible anthology invites young readers to discover and celebrate phenomenal forebears and contemporary catalysts, while encouraging them to blaze their own inimitable trails. Taking its name from...
Format: Hardback - Released: 01/02/2018

Piecing Me Together
Renee Watson
In a Nutshell: Be Your Best "Be bold. Be brave. Be beautiful. Be brilliant. Be (your) best". So resolves main character Jade in this timely, inspirational novel that will surely motivate many young women to do the same. ...
Format: Paperback - Released: 08/02/2018

Dark Tracks
Philippa Gregory
In a Nutshell: Drive Out the Devil Dancers Menace, madness and medieval adventure abound in this thrilling fourth volume of the atmospheric Order of Darkness series by a doyenne of historical fiction. Luca Vero belongs to the Order of Darkness...
Format: Hardback - Released: 25/01/2018

The Wren Hunt
Mary Watson
February 2018 Debut of the Month | In a Nutshell: Electrifying folkloric thriller Blending folkloric fantasy with contemporary romance, this immersive multi-layered novel heralds the arrival of a unique new voice in young adult fiction. Each Christmas, Wren is hunted in...
Format: Paperback - Released: 08/02/2018

WaR: Wizards and Robots
will.i.am, Brian David Johnson
February 2018 Debut of the Month In a nutshell: sci-fi and fantasy blend in high-action, thought-provoking adventure Musician and entertainer will.i.am has collaborated with science of the future specialist Brian David Johnson to create an epic adventure. WaR seamlessly combines...
Format: Hardback - Released: 25/01/2018

Kids Like Us
Hilary Reyl
February 2018 Debut of the Month | In a Nutshell: All people have bubbles You'll smile, you'll gasp, you'll root for main character Martin throughout and, while it's only January, I strongly suspect that this radiant story about relishing memorable...
Format: Paperback - Released: 30/10/2017

Goodbye, Perfect
Sara Barnard
In a Nutshell: True friendship tested Fresh-voiced and thought-provoking contemporary YA exploring friendship, trust, messing up and trying to do the right thing in the aftermath of a teen girl going on the run with a teacher. Fabulously forthright Eden...
Format: Paperback - Released: 08/02/2018

I Am Thunder
Muhammad Khan
February 2018 Debut of the Month | In a Nutshell: Brave British Muslim keeps her head after losing her heart An important, engaging debut in which a bright British Muslim is drawn down a dark path. Tingling with heart...
Format: Paperback - Released: 25/01/2018

Last Month's Featured Books

Zenith
Sasha Alsberg, Lindsay Cummings
YA Sci-Fi featuring an all-girl spaceship crew taking control and showing the boy's how it's done, with romance, tragedy and ray-guns. Lovereading Review to follow.




We Come Apart
Sarah Crossan, Brian Conaghan
In a nutshell: unputdownable story, beautifully told | Sarah Crossan and Brian Conaghan are two of our most garlanded YA authors: she won the 2016 Carnegie Medal, the...




How to Hang a Witch
Adriana Mather
January 2018 Book of the Month | In a nutshell: bewitching tale of love, suspense and witchery Adriana Mather's story of a young girl overcoming a centuries old supernatural feud...




The Cruel Prince
Holly Black
In a nutshell: dark, spellbinding fantasy from a master of the form Holly Black's new series stars a girl caught between the human and the Faerie worlds. Jude was just...




The Truth and Lies of Ella Black
Emily Barr
January 2018 Book of the Month This twisting tale of shady secrets, a destructive alter ego and a feverishly fast-tracked romance will leave fans of psychological thrillers reeling, as 17 year-old...


The Month Before's Featured Books

The Treatment
C. L. Taylor
In a Nutshell: Edge-of-your-seat institutional indoctrination thriller Suspense, suspicion and sinister secrets abound in this accomplished YA debut from the bestselling author of four adult thrillers. Sixteen-year-old Drew's troublesome brother,...




Moonrise
Sarah Crossan
Shortlisted for the Costa Book Awards 2017, Costa Children's Book Award In a Nutshell: Death row injustice | Undying brotherly love ...




Wonderful Feels Like This
Sara Lovestam
November 2017 Debut of the Month A gentle, yet powerful and stimulating novel about friendship and love. 15 year old Steffi who is being bullied at school, meets Alvar who...


See ALL Authors in this category
See ALL Featured Books (with opening extracts) in this category
Lovereading is an amazing place to be, the website is wonderful and to me if I'm sad I'll go here and it cheers me up!

Sophia Upton
I love the honest opinions, recommendations for every genre and every reader, wish lists and Like for Like.

Amrita Dasgupta
Lovereading does a stella job in promoting both new and established authors.

Iris Clements
Lovereading is not only an amazing site, but it's one of my very favourites. It's like visiting a fascinating bookstore, but better.

Rebecca Jayne Barrett
I love Lovereading because I get to read great books and then get to tell everybody how good they are.

Sally Doel
At Lovereading there are fabulous books available in every genre, with great reviews to help you pick the right book for you.

Teresa O'Halloran
It has enriched my leisure time by introducing me to a world of books which I would not have previously considered.

Val Rowe
I love 'try before you buy' extracts. I love the wide range of authors & genres. I love the author info. I love books!

Judi Davies
Tweet
Add to favourites
Life-lessons, loves, laughs & LOADS more!
_________________________
Especially compiled for Young Adults, this section is awash with wonderful worlds to escape to, great stories and characters you'll love.
_________________________
The years leading up to your 20s are such a vibrant and vivid time in your life. Adventure, friendships, self-discovery are all there in spades, but there's frustration too, impatience and a strong desire to be understood. This section of fantastic books for young adult readers is filled with stories that reflect all of these feelings in settings that will give flight to your imagination. Be inspired by tales of self-discovery, run the rocky road of romance, battle big issues in mysterious worlds, beat the bleak future of dystopian regimes, or laugh out loud at the ridiculousness of it all. There's something here for all tastes and moods from half-god heroes to horseback holidays and literally everything in between.
You can download a free Opening Extract of each book, usually about the first chapter. Read it on your screen, or print it off and enjoy anywhere. We give you enough of a book to see whether it's your sort of thing.
The Wishlist feature is great if it's your birthday or Christmas coming up. Make an online list of books you'd like to read and email Mum, Dad or generous relatives with credit cards.
Try the Author Like-for-Like tool when you've finished all the books by one author you love, and don't know what to read next. Just type in a favourite writer's name, and we'll suggest others, equally brilliant and with a similar style.
It's all completely free. All we need from you is an email address and password. But don't worry; we don't go passing on your contact details to anyone else.