"I'm always saddened to hear people say they never read in a particular genre, as if there were some virtue in refusing to expand one's reading horizons. So my choices are all from different genres – genres with which not everyone may be entirely comfortable." - Joanne Harris
Each quarter will see a best-selling and much loved author in the spotlight as our LoveReading Guest Editor. This is their space, and they are free to simply choose favourite books, or tickle our thought-processes with particular topics.
We are absolutely thrilled to introduce you to Joanne Harris. Fans will know her for her gorgeously diverse range of novels, short stories, and non-fiction, her third novel in 1999 was of course, the award-winning Chocolat. Sitting as our December LoveReading Guest Editor, and Author in the Picture, her Ten Things About Writing is available in hardback from 10 December 2020. Editorial Expert Joanne Owen describes Ten Things About Writing as: "invaluable inspirational - and practical… rather like having a wise writer as a best friend, on hand to offer pragmatic and energising advice". I personally have a much loved signed edition of one of Joanne's novels sitting in pride of place on my own shelves.
Joanne's theme is The Comfort Zone, and she explains why she feels it is important to read across the genres. It is something that we are passionate about here at LoveReading, while our Editorial Experts have their own areas of expertise, we do read and review all genres. If I listed my top ten books of all time (please don't make me!), there would be a glorious mix of genres within fiction and non-fiction books included. Welcome Joanne...
The theme of my selection is THE COMFORT ZONE. I appreciate that we all have particular, preferred genres of reading. But I'm always saddened to hear people say they never read in a particular genre, as if there were some virtue in refusing to expand one's reading horizons. So my choices are all from different genres – genres with which not everyone may be entirely comfortable. And yet, each one is a window into a different world, a world you may only think you know...
1. The literary novel.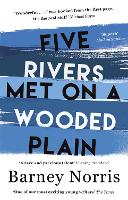 Barney Norris: FIVE RIVERS MET ON A WOODED PLAIN. One quiet evening in Salisbury, the peace is shattered by a serious car crash. At that moment, five lives collide – a flower seller, a schoolboy, an army wife, a security guard, a widower – all facing their own personal disasters. This is a spectacular book; unusual, sad, poetic, and gorgeously-written. Five intersecting stories in five very different voices, all set in the shadow of Salisbury Cathedral and the context of a single incident reveal how closely we co-exist; how fragile our lives can often be and how beautiful the small human connections that we make on a daily basis can be, when revealed in just the right kind of light.
2. The sci-fi novel.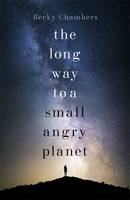 Becky Chambers: THE LONG WAY TO A SMALL, ANGRY PLANET. This is the first of a series of books, and together they represent by far the best sci-fi I've read in a long time. There are no space battles here, none of the tired tropes of sci-fi. This is something genuinely different, inclusive and compassionate, which treats the concept of alien-ness - in terms of race, gender, sexuality and culture - as something genuinely diverse, rather than just humans in clever makeup. The dialogue is terrific, the world-building spectacular, and the style is spare and elegant and wholly, gloriously immersive. This is what sci-fi has been trying (and largely failing) to be since the early 90s. Now it's here, and it's glorious.
3.The fairy tale.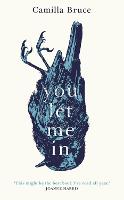 Camilla Bruce: YOU LET ME IN. This book is an exquisite rarity: a faerie book that is at the same time marvellously visual and imaginative, but works equally well as a study of human trauma; a love story (of sorts); a family drama; a wholly engaging mystery. I found it in my to-read pile (which this year has been sadly neglected) and started it with no great expectation, although by the end of the third page I was not only hooked, but beginning to think that this might be the best book I'd read all year. Anyone who knows me knows how often I find myself disappointed by the payoff of a novel. This one maintained the tension right till the end - another rarity -never veering into over-exposition or self-indulgence. And the faeries are both nicely original and authentically folkloric: creepy, pagan, detailed, entrancing. I loved it, and I sense that I'll be following this author's future work with excitement and admiration. She's been places. She knows things. Follow her; you'll know them, too.
4.The graphic novel.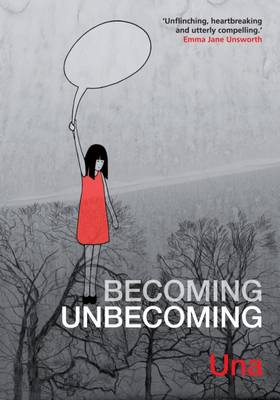 Una: BECOMING, UNBECOMING. I'm always slightly disappointed at how many people never read graphic novels. This one is exceptional; a tough, hard-hitting memoir of abuse set in Yorkshire against the background of the 1977 Yorkshire Ripper manhunt. As this national news story unfolds around her, Una finds herself on the receiving end of a series of violent acts for which she feels she is to blame. This spectacular novel explores gender violence, blame, shame, and social responsibility. Through image and text Una asks what it means to grow up in a culture where male violence goes unpunished and unquestioned. With the benefit of hindsight Una explores her experience, wonders if anything has really changed and challenges a global culture that demands that the victims of violence pay its cost.
5. The love story.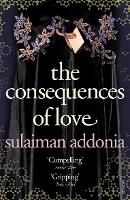 Sulaiman Addonia: THE CONSEQUENCES OF LOVE. A gorgeous, slow-burning love story set in Saudi Arabia, The Consequences of Love is touching, infinitely plausible, and infused with a brooding sensuality. It is summer in Jeddah, but Naser's life seems bleak. An immigrant in an unfriendly land, his friends have fled town for cooler climes and left him to his dead-end job and the scrutiny of the religious police, who keep watch through the shaded windows of their government jeeps. He spends his time writing to his mother in Africa and yearning to meet a woman - but in a country that separates men and women with walls and veils he feels increasingly trapped. Then, one of the black-clad women drops a piece of paper at his feet, instructing him to follow her...