Blue-Eyed Infidel, by Cosmo Clark
By Staff Writer
Readers who are easily offended, take note: this gripping sci-fi thriller in the vein of A Clockwork Orange and 1984 is probably not for you.
Cosmo Clark pulls no punches in his controversial debut outing, Blue-Eyed Infidel, make no mistake. In fact, he issues a stern warning to this effect at the start of the book. But for bookworms with a dark sense of humour, a penchant for satirical and thought-proving comedy, and an unashamed taste for fast and fun action thrillers, this could be the book you've been waiting for.
The first book in trilogy from British cyber security analyst and observer Cosmo Clark (a pen name given the secretive nature of his job), Blue-Eyed Infidel is set in a horrific vision of 2051. It's a dystopian future, where an extreme form of Islam has taken hold of much of Europe, and the British capital is the Islamic State of London.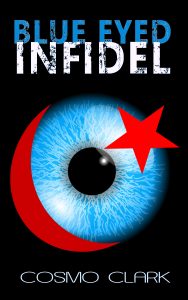 With young non-Muslim females raised in 'slave pens' to serve the whims of their Islamic rulers, and Buckingham Palace serving as the headquarters of the extremist caliph, it's a nightmarish vision of the future.
Meanwhile, the USA and Japan are engaged in a bitter cold war with Korea and China (China itself supporting the Islamic extremists in a bid to undermine the fragile ties between the USA and its European allies).
The book's hero (or anti-hero) is 'blue-eyed infidel' Adam Ali, a non-extremist Muslim whose circumstances require that he feign an enthusiasm for religious extremism. An accountant for the Caliph of London, he dreads being drawn into combat, but must not show his reluctance for fear of violent retribution.
The book begins as Ali is reluctantly called upon to take part in a suicide bomb attack against none other than the Queen of England, and his sly humour in a shocking situation makes him an instantly relatable character.
The initial chapters of the book flip between the dystopia of 2051 and the near future, when former military fighter turned kick-ass journalist Kat Clark is caught up in dramatic terror attacks and their aftermath, and develops a super-tough persona that could ultimately shape the future of the UK.
Clark brings elements of his anti-terrorism work into the novel in addition to some real-life terrorist atrocities, including 9/11 and the Manchester bombing. There's also some impressive sci-fi elements, including Adam being fitted with inner-eye technology by the Caliph as he is sent on an undercover mission to infiltrate enemy territory by posing as a non-extremist fleeing the Caliph in fear of his life.
Politically-correct readers may baulk at the book's central theme, but the book is not anti-Islam in its stance. The author's beef is with religious extremism in any form, and the book makes the point that all religions have their share of violent elements, keen to shed blood in the name of their god.
Blue-eyed Infidel takes readers on an adrenaline-fueled ride through tense action scenes, graphic violence and racy sex scenes (without giving away any spoilers, a section of the book involves a rebel female camp where men are brought in merely to service the women and contribute to the gene pool), but there is genuine human emotion, too, and even a spot of romance, between Adam and the glamorous Jewish character Devorah.
The book tackles seriously dark subject matter, no question. But if it's a controversial read that you're after this Christmas, then this could be just the thing.
Blue Eyed Infidel is out now, priced £9.99 in paperback and £3.49 as an eBook, and is available at Amazon UK. Visit www.cosmoclark.com.