The Adventures of Tintin is a series of comic strips created by Belgian artist Hergé, the pen name of Georges Remi (1907–1983). The series first appeared in French in a children's supplement to the Belgian newspaper Le Vingtième Siècle on 10 January 1929.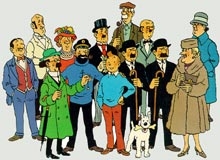 Spanning more than 50 years Tintin's adventures, from the Congo to the Moon, created 24 timeless books. These have now been beautifully rebound in 8 hardback sized books so the adventure and excitement can live on with your children.
Here is the full list of the titles and when they were originally published. Check the centre column on this page to find out which titles feature in which of the 8 volumes.
1. Tintin in the Land of the Soviets (1929–1930)
2. Tintin in the Congo (1930–1931)
3. Tintin in America (1931–1932)
4. Cigars of the Pharaoh (1932–1934)
5. The Blue Lotus (1934–1935)
6. The Broken Ear (1935–1937)
7. The Black Island (1937–1938)
8. King Ottokar's Sceptre (1938–1939)
9. The Crab with the Golden Claws (1940–1941)
10. The Shooting Star (1941–1942)
11. The Secret of the Unicorn (1942–1943)
12. Red Rackham's Treasure (1943–1944)
13. The Seven Crystal Balls (1943–1948)
14. Prisoners of the Sun (1946–1949)
15. Land of Black Gold (1948–1950)
16. Destination Moon (1950–1953)
17. Explorers on the Moon (1950–1954)
18. The Calculus Affair (1954–1956)
19. The Red Sea Sharks (1958)
20. Tintin in Tibet (1960)
21. The Castafiore Emerald (1963)
22. Flight 714 (1968)
23. Tintin and the Picaros (1976)
24. Tintin and Alph-Art (1986)
THE HERGE MUSEUM:
A SPECTACULAR new museum dedicated to Hergé, the pen name of Georges Remi, who created the comic-book hero Tintin, has just opened in the Belgian town of Louvain-la-Neuve.
THE STEVEN SPIELBERG FILM:
The film due for release in 2010 is directed by Steven Spielberg, and the script is based on two of the stories; The Secret of the Unicorn and The Crab with the Golden Claws. Jamie Bell (Billy Elliot star) is playing Tintin, Andy Serkis is playing Captain Haddock, and Simon Pegg and Nick Frost are playing Thomson and Thompson. The cast also includes Daniel Craig, Toby Jones, Mackenzie Crook and Gad Elmaleh.