LoveReading Expert Review of The Great Silence
Fans of the thrilling Skelfs series are reunited with familiar faces and plots as dark and twisty as Edinburgh itself
If you're hoping for another nail-biter in Doug Johnstone's popular Skelfs novels, you won't be disappointed – and if you're new here, well there's much to enjoy. The third instalment in the series doesn't waste time with back stories or explaining who's who; we hop right to the action. What we do get, though, an introduction to the Skelfs, three generations of women who run a funeral business in Edinburgh – who also happen to be private investigators. Dorothy, the matriarch, her daughter Jenny and granddaughter Hannah are quickly embroiled in a mystery after a human foot is discovered in a park. From there, the plot expands far and wide into quite dark, even absurdist territories. But the strength of the novel is in the characters, with each chapter following one of the Skelf women. This trio, flawed but fair, elevates the book above your average crime novel. You'll have to suspend disbelief at times but if you're looking for a thrilling ride, this won't leave you short-changed.
The Great Silence Synopsis
The discovery of a human foot in an Edinburgh park, the inexplicable circumstances of a dying woman, and the missing daughter of Jenny's violent ex-husband present the Skelf women with their most challenging - and deadly - cases yet...
Keeping on top of the family funeral directors' and private-investigation businesses is no easy task for the Skelf women, and when matriarch Dorothy discovers a human foot while walking the dog, a perplexing case presents itself ... with potentially deadly results.
Daughter Jenny and grand-daughter Hannah have their hands full too: The mysterious circumstances of a dying woman lead them into an unexpected family drama, Hannah's new astrophysicist colleague claims he's receiving messages from outer space, and the Skelfs' teenaged lodger has yet another devastating experience.
Nothing is clear as the women are immersed ever deeper in their most challenging cases yet. But when the daughter of Jenny's violent and fugitive ex-husband goes missing without trace and a wild animal is spotted roaming Edinburgh's parks, real danger presents itself, and all three Skelfs are in peril.
Taut, dark, warmly funny and unafraid to ask big questions - of us all - The Great Silence is the much-anticipated third instalment in the addictive, unforgettable Skelfs series, and the stakes are higher than ever.
About This Edition
| | |
| --- | --- |
| ISBN: | 9781913193843 |
| Publication date: | 19th June 2021 |
| Author: | Doug Johnstone |
| Publisher: | Orenda Books |
| Format: | Ebook |
| Primary Genre | Crime and Mystery |
| Other Genres: | |
| Recommendations: | |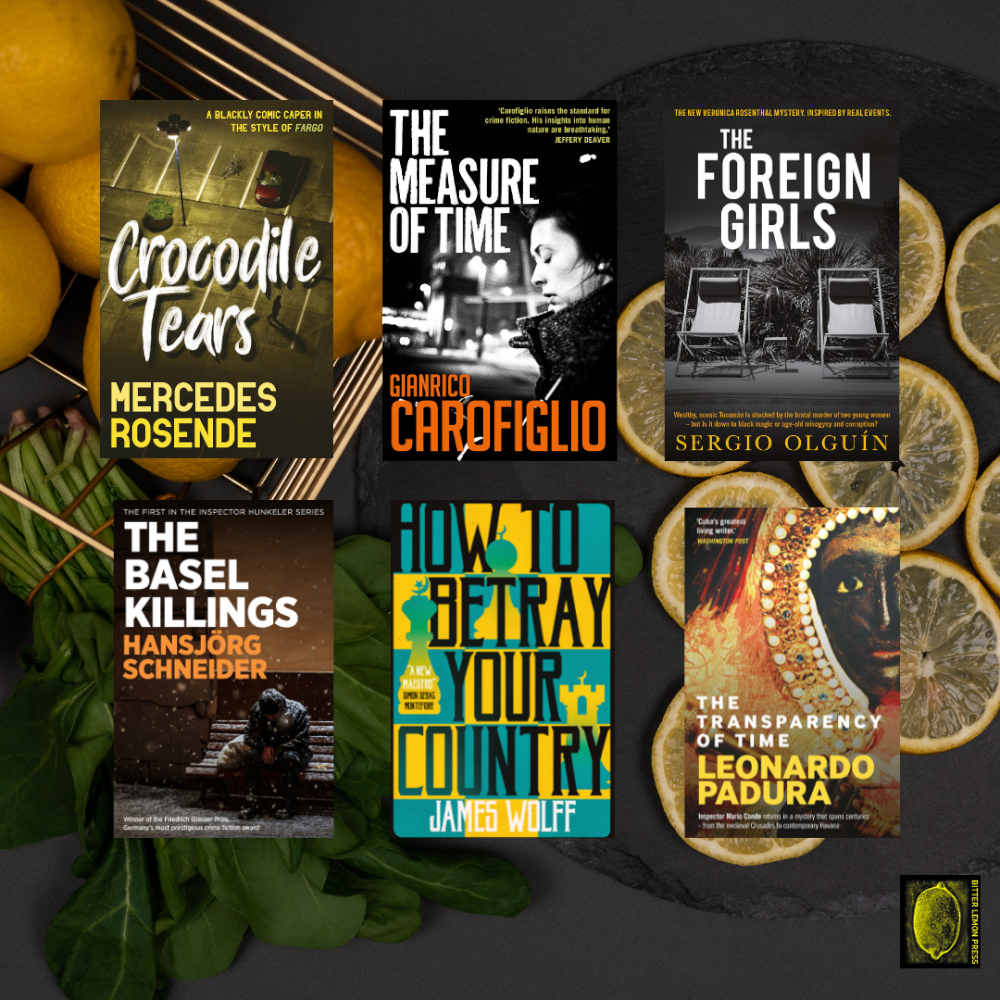 We are teaming up with translated crime fiction aficionados Bitter Lemon Press to offer a brilliant book giveaway! This book bundle will include a copy of all six 2021 releases. The titles up for grabs are: Crocodile Tears by Mercedes Rosende The Measure of Time by Gianrico Carofiglio How To Betray Your Country by James Wolff The Basel Killings by Hansjo?rg Schneider The Transparency of Time by Leonardo Padura The Foreign Girls by Sergio Olguín This draw is open only for UK residents currently in the UK and is free to enter, multiple entries from the same email address will only be counted once. The draw closes on 7th November 2021. Please ensure that the details you use to enter the competition will be correct at the time the competition ends. The winners will be notified as soon as possible.
Like For Like Featured Books
Doug Johnstone Press Reviews
'Mysteries aplenty ... a poignant reflection on grief and the potential for healing that lies within us all. A proper treat' Mary Paulson-Ellis
'This enjoyable mystery is also a touching and often funny portrayal of grief, as the three tough but tender main characters pick up the pieces and carry on: more, please' Guardian
'Wonderful characters: flawed, funny and brave' Sunday Times
'Exceptional ... a must for those seeking strong, authentic, intelligent female protagonists' Publishers Weekly
Other editions of this book
About Doug Johnstone
Doug Johnstone is the author of four novels, most recently Hit & Run, acclaimed by Ian Rankin as 'a great slice of noir' and by Irvine Welsh as 'a grisly parable for our times'. He is also a freelance journalist, a songwriter and musician, and has a PhD in nuclear physics. He lives in Edinburgh. Author photo © Chris Scott
More About Doug Johnstone