LoveReading Expert Review of See You in September
May 2017 Book of the Month.
Gosh, what a stunning read this is, I simply couldn't put it down and devoured it in one glorious sitting! Cassy travels half way around the world to New Zealand with her boyfriend, when they separate, Cassy is left stranded, and a split second decision changes the outcome of her life. I admit to grabbing this book as soon as it arrived in the office; Charity Norman has the ability to strike a chord, to answer a feeling, yet open your eyes and mind to new thoughts, and I simply love her writing. The prologue, set in 2016, sent chills racing down my arms, I almost had to sit on my hands to prevent me from sneaking a peak at the ending. As soon as I started to read chapter one, set in 2010, I was swept away, and stayed immersed in the story as the tension escalated to almost unbearable levels. I chided, fumed, beseeched, pondered and considered. Charity Norman has once again created a searing, expressive, and absolutely cracking read, I adored and highly recommend 'See You In September'. ~ Liz Robinson
See You in September Synopsis
Cassy smiled, blew them a kiss. 'See you in September,' she said. It was a throwaway line. Just words uttered casually by a young woman in a hurry. And then she'd gone.
It was supposed to be a short trip - a break in New Zealand before her best friend's wedding. But when Cassy waved goodbye to her parents, they never dreamed that it would be years before they'd see her again. Having broken up with her boyfriend, Cassy accepts an invitation to stay in an idyllic farming collective. Overcome by the peace and beauty of the valley and swept up in the charisma of Justin, the community's leader, Cassy becomes convinced that she has to stay. As Cassy becomes more and more entrenched in the group's rituals and beliefs, her frantic parents fight to bring her home - before Justin's prophesied Last Day can come to pass. A powerful story of family, faith and finding yourself, See You in September is an unputdownable new novel from this hugely compelling author.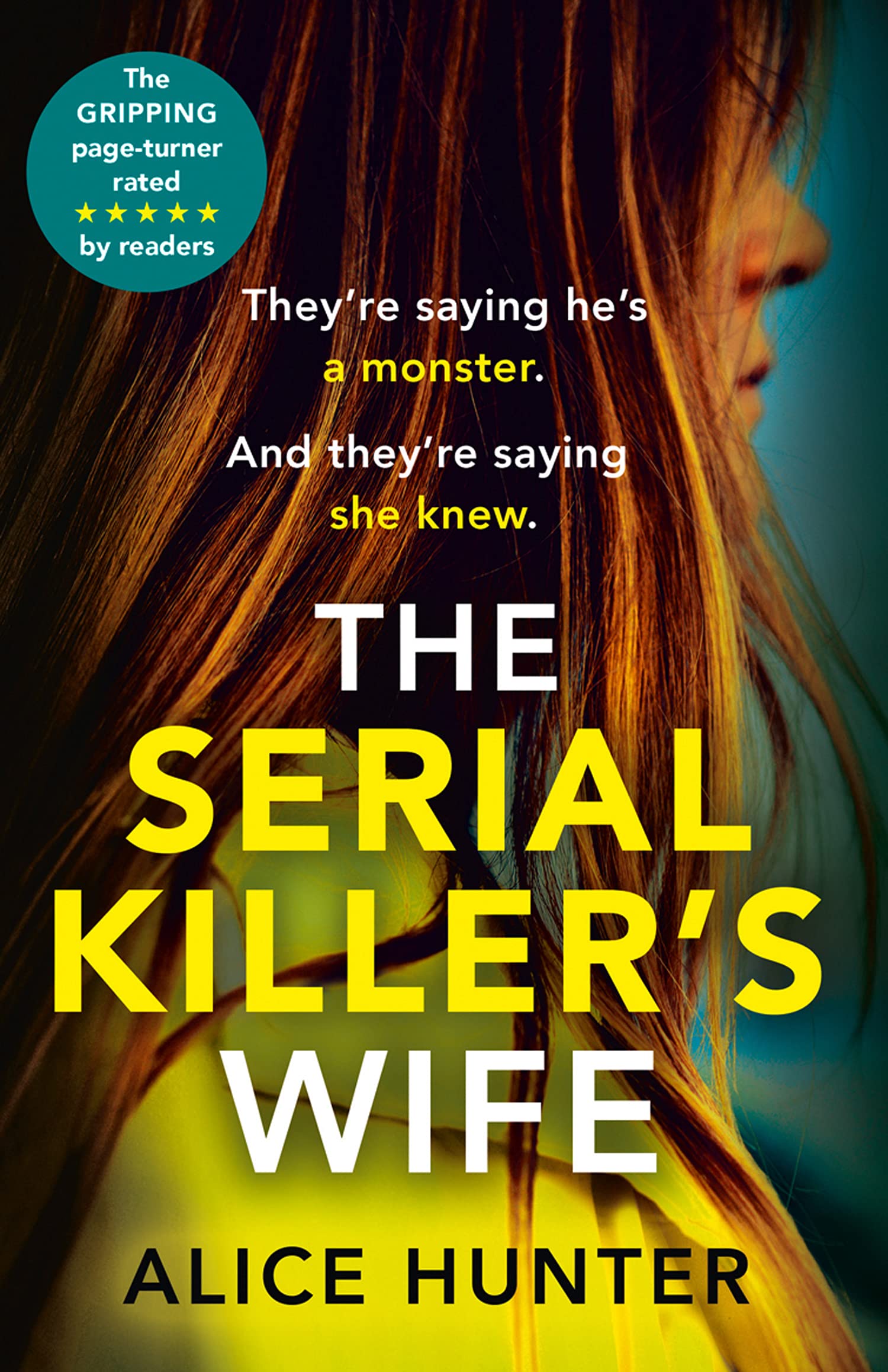 The Serial Killer's Wife by Alice Hunter is out now and to celebrate we are working with AVON to offer a copy of the paperback as well as a Colourblock Papier notebook. "A snaking twisting ride into the middle of a young family torn apart by allegations of murder." Liz Robinson, Expert Reviewer This draw is open only for UK residents currently in the UK and is free to enter, multiple entries from the same email address will only be counted once. The draw closes on 30th June 2021. Please ensure that the details you use to enter the competition will be correct at the time the competition ends. The winners will be notified as soon as possible.
Like For Like Featured Books
See You in September Reader Reviews
In addition to our Lovereading expert opinion some of our Reader Review Panel were also lucky enough to read and review this title. You can click here to read the full reviews.
Nicki Southwell - 'What a powerful and emotive storyline. I was completely immersed in this.'
Annie Day - 'A gripping emotional tale of how a young female student on an overseas summer trip inadvertently falls into the clutches of a manipulative cult. Not good for a parent of a gap year student!'
Sarah Musk - 'A brilliant, compulsive read about a young woman who becomes involved in a religious cult in New Zealand and her family's attempts to rescue her from their clutches.'
Jane Pepler - 'A brilliant, gripping read full of strong characters.'
Rachel Aygin - 'I loved this book. The plot is fascinating and the descriptions of the New Zealand landscape make you want to find out more about the country.'
Susan Andrews - 'Another great book by Charity Norman. She really picks her subjects well. Each book totally different. I've loved each one! If you've not read any of her books, start now!'
Krissy - 'A gripping read and thoroughly enjoyable book.'
Alan Brown - 'A description of a family who live with one of them taken into a cult. Brilliantly written in the round.'
Cheryl Kinney - 'Great read! I haven't read any of Charity Norman's books before, I will definitely be looking up her previous titles after reading See You in September.'
Sarah Harper - 'Unsettling, creepy and gut-wrenchingly plausible, this was completely and utterly compulsive. In a similar vein to Eleanor Wasserberg's Foxlowe, this is equally sinister and equally stunning.'
Chloe Hill - 'The reason this book worked for me was because it was so incredibly convincing.'
Sharon McKinlay - 'A consuming read about a young girl who gets swept up by a cult and her family's struggles to try & get her back.'
Nicola Edwards - 'A powerful, all-encompassing book that will have you thinking about it long after you've read it.'
Caroline Harvey - 'Anything by Charity Norman is a must read.'
Lisa Wise - 'See You In September captivated me, I adore books which draw you in and leave you wanting more!'
Charity Norman Press Reviews
Praise for Charity Norman:
'A riveting, fascinating read. I was absolutely gripped.' Julie Cohen
'See You in September is one of those novels that really gets beneath the skin... I love the way Charity Norman is able to show the greys between the obvious black and whites; how she draws such multi-layered characters; and, of course, how she describes her stunning but often sinister locations.' Tracy Buchanan
'This is the author's fourth book and although I've said it before, it's her best. I can't wait to see what subject she'll tackle next.' The Sun on THE NEW WOMAN
'Completely brilliant - you won't be able to turn the pages fast enough.' Bella on THE NEW WOMAN
'I shouted at this novel. I cast it away, abandoned, only to return to its beguiling pages.' Buzz on THE NEW WOMAN
'Engrossing' Woman and Home on THE SON-IN-LAW
'A gripping tale that would appeal to fans of Jodi Picoult and Joanna Trollope... A page turning book to while away a winter's evening.' Red Online on AFTER THE FALL
'Easy to read, hard to put down, it'll move you to tears.' Easy Living on FREEING GRACE
Other editions of this book
About Charity Norman
Charity Norman was born in Uganda and brought up in successive draughty vicarages in Yorkshire and Birmingham. After several years' travel she became a barrister, specialising in crime and family law in the northeast of England. Also a mediator and telephone crisis line listener, she's passionate about the power of communication to slice through the knots. In 2002, realising that her three children had barely met her, she took a break from the law and moved with her family to New Zealand. Her first novel, Freeing Grace, was published in 2010. After the Fall was a Richard and Judy Book Club choice ...
More About Charity Norman