American Industrial Archaeology Synopsis
This comprehensive guide provides the reader with basic information of the most common types of structures, sites, and objects encountered in industrial archaeology. These include bridges, railroads, roads, waterways, several types of production and extraction factories, water and power generating facilities, and others. Each chapters contains a brief introduction to the technology or features of each class of installation, illustrations with characteristics that help identifying important elements of the type, and a glossary of common terms. Two chapters offer valuable guidance on researching industrial properties and landscapes. For students, avocational archaeologists, and cultural resource management surveys, this volume will be an essential reference.
American Industrial Archaeology Press Reviews
McVarish covers a broad array of industrial site types within the expansive categories of transportation, extraction, production, and power generation. He breaks each industry into their assorted components, elucidating the functions and processes of each element so that they can be understood separately and as parts of a connected whole. He describes the functional and technical changes of each industry through time, providing physical and temporal contexts of the separate pieces and the composite industry. McVarish provides concise descriptions of the actions and processes in each industry and creates an authoritative vocabulary for working with and understanding the sites in the field. The straightforward compilation and presentation of the historical background and technical aspects of so many industries will meet the varied needs of archaeologists, architectural historians, historians, landscape planners, and others interested in the industrial past. This book will make it easier to identify and interpret industrial sites. From the Forward by Carolyn White
About Douglas C McVarish
Douglas C. McVarish has been employed as an architectural historian by John Milner Associates, Inc. since 1992. He currently is Principal Architectural Historian and Associate and works in JMA's Philadelphia office. He holds a BA degree in American studies from Hampshire College, a Masters of Planning degree from the University of Virginia and a M.S. degree in historic preservation from the University of Vermont. He has surveyed and documented many industrial structures and landscapes including two slackwater navigation corridors, aluminum industry facilities of western Pennsylvania, a Maryland mine fan complex, many bridges, several electrical generating stations, a shipyard, a sanitary ...
More About Douglas C McVarish
More Books By Douglas C McVarish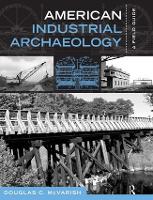 View All Books By Douglas C McVarish