Me and White Supremacy Synopsis
'White supremacy is a violent system of oppression that harms Black, Indigenous and People of Colour. And if you are a person who holds white privilege, then you are complicit in upholding that harm, whether you realise it or not. This is not my opinion. This is fact. And if you are person who holds white privilege, the question you should be asking isn't whether or not this is true, but rather, what are you going to do about it?' Between June and July 2018, Layla Saad ran a 28-day Instagram challenge under the hashtag #MeAndWhiteSupremacy, for people with white privilege to unflinchingly examine the ways that they are complicit in upholding the oppressive system of white supremacy. The challenge quickly went viral, with thousands of people from all over the world (including USA, Canada, UK, Italy, Germany, The Netherlands, Russia, UK, Australia, New Zealand, Thailand and Qatar, among others) diving deep for 28 consecutive days to examine and take responsibility for the ways in which they uphold white supremacy. The challenge catalyzed a worldwide awakening for thousands of white-privileged people to begin to take ownership of their personal anti-racism work. This workbook was born out of that challenge.
Me and White Supremacy Press Reviews
It is completely unforgettable -- Emma Gannon * Red magazine * Discovering Layla's work was one of the most important, uncomfortable and pivotal moments in my life. It guided me back to my humanity. * Florence Given * What Layla has created here is essential to anyone committed to doing the right thing regardless of how difficult it may feel. We can not dismantle what we are unwilling to acknowledge. And this book is perfect for anyone who wants to start to build a better society for all. * Candice Brathwaite * Layla is an extremely powerful communicator. From the first page, you will be glued to this book. It should be mandatory reading. The message is urgent and the book is actionable and practical. Buy this book for yourself, do the work, and then push more copies it into the hands of everyone you know. * Emma Gannon, Sunday Times bestselling author * America needed this book yesterday. In fact, America has always needed this book. Layla Saad is one of the most important and valuable teachers we have right now on the subject of white supremacy and racial injustice. With keen intelligence and tireless patience, she is working to remove our collective cultural blindspots, and to help - at last - to change minds and transform society. I have the deepest respect for her. Buy this book for yourself, your family, your students. Don't put it off, and don't look away. It's time. * Elizabeth Gilbert, author of Eat, Pray, Love and City of Girls *
About Layla Saad, Robin DiAngelo
Layla Saad is a globally respected writer, speaker and podcast host on the topics of race, identity, leadership, personal transformation and social change. As an East African, Arab, British, Black, Muslim woman who was born and grew up in the West, and lives in Middle East, Layla has always sat at a unique intersection of identities from which she is able to draw rich and intriguing perspectives. Layla's work is driven by her powerful desire to 'become a good ancestor'; to live and work in ways that leave a legacy of healing and liberation for those who will come after ...
More About Layla Saad, Robin DiAngelo
More Books By Layla Saad, Robin DiAngelo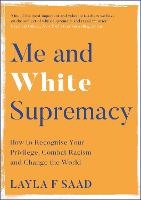 View All Books By Layla Saad, Robin DiAngelo