LoveReading Expert Review of The Whites
A Maxim Jakubowski selected title.
Major US novelist and screen writer Richard Price (Clockers, The Wanders, Sea of Love) lies behind the Brandt pseudonym, but this New York cop novel proves worthy of his reputation on all fronts. Humane, memorable characters, a scalpel-like dissection of the everyday life of those on the right side of the law, flaws and all, this is also a terrific novel in its own right, away from the strictures of genre. Sergeant Billy Graves has been relegated to the night watch since an unfortunate racial-connected shooting a decade ago. His life, colleagues, friendship and foes form a tapestry of pages that scream of real life until one of his friends disappears and then another and Billy realises he is being stalked. By whom? Why? Diverse plot strands gradually come together to form a magnificent whole until a devastating reckoning. All life is here. An important and unmissable book.
The Whites Synopsis
Every cop has a personal 'White': a criminal who got away with murder - or worse - and was able to slip back into life, leaving the victim's family still seeking justice, the cop plagued by guilt. Back in the 1990s, Billy Graves was one of the Wild Geese: a tight-knit crew of young mavericks, fresh to police work and hungry for justice, looking out for each other and their 'family' of neighbourhood locals. But then Billy made some bad headlines by accidentally shooting a ten-year-old boy while bringing down an angel-dusted berserker in the street. Branded a loose cannon, he spent years in one dead-end posting after another. Now he has settled into his role as sergeant in the Night Watch, content simply to do his job and go home to his family. But when he is called to the 4 a.m. stabbing of a man in Penn Station, Billy discovers the victim is the 'White' of one of his his oldest friends, a former member of the Wild Geese, who is now retired. As the past comes crashing into the present, the Wild Geese seemingly rise from the dead, and the bad old run-and-gun days of the 90s are back with a vengeance. Richard Price, writing for the first time under the pen-name of Harry Brandt, is one of America's most gifted novelists. He has always written brilliantly about New York City, and this electrifying novel - fast-moving and stripped to the bone - marks a heart-stopping new departure.
About This Edition
| | |
| --- | --- |
| ISBN: | 9781408864579 |
| Publication date: | 12th February 2015 |
| Author: | Harry Brandt |
| Publisher: | Bloomsbury Publishing PLC |
| Format: | Hardback |
| Primary Genre | Crime and Mystery |
| Other Genres: | |
| Recommendations: | |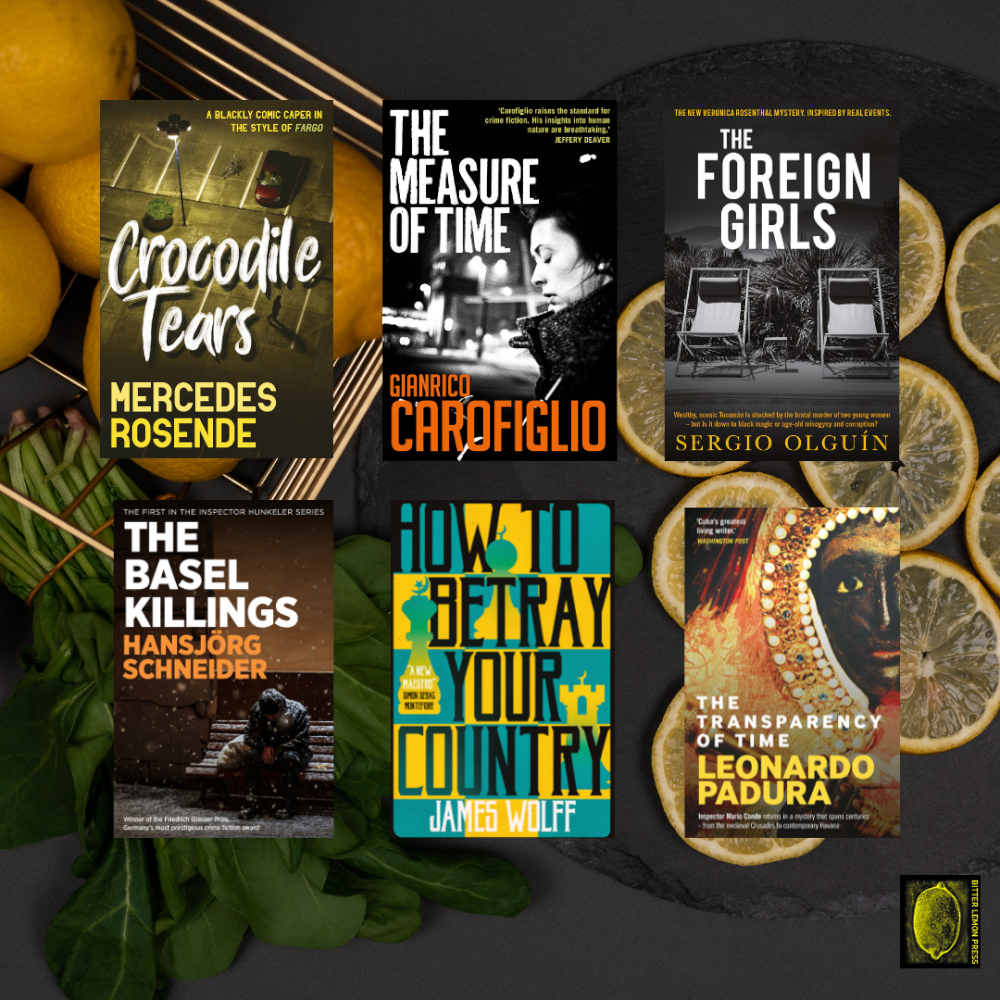 We are teaming up with translated crime fiction aficionados Bitter Lemon Press to offer a brilliant book giveaway! This book bundle will include a copy of all six 2021 releases. The titles up for grabs are: Crocodile Tears by Mercedes Rosende The Measure of Time by Gianrico Carofiglio How To Betray Your Country by James Wolff The Basel Killings by Hansjo?rg Schneider The Transparency of Time by Leonardo Padura The Foreign Girls by Sergio Olguín This draw is open only for UK residents currently in the UK and is free to enter, multiple entries from the same email address will only be counted once. The draw closes on 7th November 2021. Please ensure that the details you use to enter the competition will be correct at the time the competition ends. The winners will be notified as soon as possible.
Like For Like Featured Books
Harry Brandt Press Reviews
'Whether you call it a crime novel or a mystery novel or a giraffe with polka dots, is largely irrelevant - The Whites is, simply put, a great American novel' Dennis Lehane
'The Whites is the crime novel of the year - grim, gutsy, and impossible to put down. I had to read the final 100 pages in a single sitting. I began being fascinated, and ended being deeply moved. Call him Price or Brandt, he knows everything about police life, and plenty about friendship: what your friends do for you.and what they sometimes do to you' Stephen King
'The only credible thing to be said about Harry Brandt is that he has written one of Richard Price's best books yet' Michael Chabon
'This is high-octane literature, with the best of Richard Price and his souped-up pseudonym Harry Brandt. Price/Brandt gets to the heart of those stories that everyone else refuses to tell. The Whites manages to patrol New York and deepen our sense of the city and all its dark corners' Colum McCann
Other editions of this book
About Harry Brandt
Harry Brandt is the pen-name of acclaimed fiction writer Richard Price, whose eight novels include Clockers, Freedomland, Samaritan and Lush Life. He is also an internationally renowned screenwriter for both film and television, having written among other works Sea of Love, Ransom, the Academy Award nominated The Color of Money and multiple episodes of The Wire. The Whites is his first straight-shot urban thriller, and his first under the name Harry Brandt. He lives in Harlem with his wife, the novelist Lorraine Adams. Author photo © Lorraine Adams
More About Harry Brandt