LoveReading Expert Review of The Teacher
One of our Books of the Year 2016.
Longlisted for the John Creasey (New Blood) Dagger Award 2016.
A couple of Exeter cops attempt to solve the mystery of a hanged teacher which was locally followed by a whole series of gruesome deaths in this clever psychological thriller which somehow brings a new perspective to a familiar plot by illuminating the story through the eyes of several initially disparate characters. A wonderful example of the crime thriller as a jigsaw where the author always remains that one step ahead of the reader. Splendidly engineered and a compulsive page turner which introduces a likeable set of investigators faced with a succession of rather horrible conumdrums, and thus not for the fainthearted, although assiduous readers of Thomas Harris and Patricia Cornwell will not blanch at the explicitness involved in several of the doomed protagonists' demise. ~ Maxim Jakubowski
The Lovereading view...
Oooh, this is disturbingly good! Two detectives with their own fair share of problems find themselves in the middle of an explosion of murders, as the macabre and gruesomely graphic deaths start to mount, whose side will you find yourself on? Katerina Diamond transports you from murder, to investigation, to inside different minds with ease, each time settling you so completely into that moment, that it comes as a shock when you move on again. If you are a little squeamish, then on occasion you might need to read between your fingers, but once you start, it's utterly compelling and I found it impossible to put down. This is such a striking novel, it makes you consider, and ponder the meaning of justice. Deliciously thrilling and menacing, 'The Teacher' is a crime thriller with biting, provocative attitude and I absolutely adored it. ~ Liz Robinson
March 2016 Debut of the Month.
The Teacher Synopsis
You think you know who to trust? You think you know the difference between good and evil? You're wrong ...A LESSON YOU WILL NEVER FORGET The body of the head teacher of an exclusive Devon school is found hanging from the rafters in the assembly hall. Hours earlier he'd received a package, and only he could understand the silent message it conveyed. It meant the end. As Exeter suffers a rising count of gruesome deaths, troubled DS Imogen Grey and DS Adrian Miles must solve the case and make their city safe again. But as they're drawn into a network of corruption, lies and exploitation, every step brings them closer to grim secrets hidden at the heart of their community. And once they learn what's motivating this killer, will they truly want to stop him? SMART. GRIPPING. GRUESOME. This is a psychological crime thriller in a class of its own. Warning: Most definitely *not* for the faint-hearted!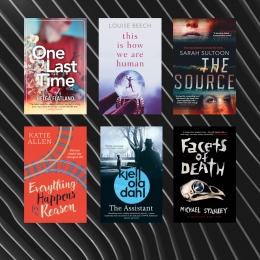 We're teaming up once again with Orenda to offer another brilliant book giveaway! Not only is a bundle of Orenda Books up for grabs, we also have a £15 voucher for the winner to use on Orenda's new look website! This book bundle will include some of their latest releases from April to June. A fantastic opportunity to stock your bookshelves. The titles up for grabs are: The Source be Sarah Sultoon - Published 15th April Facets of Death by Michael Stanley - Published 29th April The Assistant by Kjell Ola Dahl - Published 13th May This is How We Are Human by Louise Beech - Published 10th June Everything Happens for a Reason by Katie Allen - Published 10th June One Last Time by Helga Flatland - Published 24th June This draw is open only for UK residents currently in the UK and is free to enter, multiple entries from the same email address will only be counted once. The draw closes on 30th June 2021. Please ensure that the details you use to enter the competition will be correct at the time the competition ends. The winners will be notified as soon as possible.
Like For Like Featured Books
Katerina Diamond Press Reviews
This is what Katerina's publishing team are saying about THE TEACHER!
'A deftly written, visceral, grisly, instantly engaging, complex and satisfying mystery. It's led by characters - victims, perpetrators, detectives alike - who leap off the page and get under your skin! It's chillingly plausible, impossible to anticipate the end and bubbling with dark humour. I think it turns what it means to be a victim right on its head ... I urge you to read it immediately!
Eleanor Dryden, Publishing Director

'I could not put this book down. The gripping, twisty plot and the unforgettable characters (both good and bad) keep you guessing. I can't wait to read it again!'
Hannah Welsh, Key Accounts Manager

'This book will steal your lunch hour, your evenings, your every free minute until you reach the last page. The plot is full of breath-taking twists, the atmosphere is electric, and the murders are terrifying.'
Kate Stephenson, Commissioning Editor

'This book was truly unique, and I felt some incredibly intense emotions while reading it. There was a moment while reading on the tube when I suddenly there were tears streaming down my face, and I felt a desperate need to talk about it with someone who understood. I genuinely haven't been so moved by a book in a long, long time; I can only describe it as a physical feeling, it was so strong. The way it played with my expectations was simply incredible, and I remain completely blown away by it! Helena Sheffield, Digital Marketing Manager 'From start to finish it had me completely gripped and wanting to know more and more. The writing is pacy and compelling and kept me guessing all the way through. I fell in love with the characters too and it made me question my own moral code!'
Sabah Khan, Publicity Director
Other editions of this book
About Katerina Diamond
Katerina Diamond is the author of the Sunday Times and Amazon bestselling novel 'The Teacher,' which was longlisted for the CWA John Creasey Debut Dagger Award and the Hotel Chocolat Award for 'darkest moment.' She has lived in various glamorous locations such as Weston-super-Mare, Thessaloniki, Larnaca, Exeter, Derby and Forest Gate. Katerina now resides in East Kent with her husband and children. She was born on Friday the 13th.
More About Katerina Diamond