LoveReading Expert Review of Unhinged
A full-on fabulous blast of reading entertainment awaits in this electrifying crime thriller set in Norway.
An all-in all-out absolute belter of a read, and I'm still coming down from the most amazing reading high. Bear with me, as it's also one of those books where I don't want to say too much in case I inadvertently include spoilers! Police Officer Alexander Blix and news blogger Emma Ramm investigate a murder which hits too close to home. This is the third in the superb Blix and Ramm series by Jorn Lier Horst and Thomas Enger. As with the previous novel, translator Megan Turney ensures you only realise just how good the translation has been once you've finished and come up for air. Do start with Death Deserved and Smoke Screen as they most definitely warrant your attention before starting on Unhinged. One of the things I love about this series is that Blix and Emma aren't an obvious duo and their individual stories carry as much weight as the joined. Put plenty of reading time aside, as I hit top gear from the whammy of a start and didn't want to put it down, even for a second. Short chapters, shifts in focus, and rapid changes in time frames kept me on my toes and high alert. The storytelling is just superb, I'd love to know how these two writers created such a seamless and fast-moving plot. Once I'd finished, and my mind had stopped racing around, I had to have some time out to recover. Chosen as a LoveReading Star Book, Unhinged is pure, unadulterated and absolutely thrilling reading pleasure!
The LoveReading LitFest invited Jørn Lier Horst & Thomas Enger to the festival to talk about Unhinged.
The digitally native, all year round, online literature and books festival, with new content released every week is a free-for-all-users festival.
What are you waiting for? Check out a preview of the event and sign up to become a member.
Unhinged Synopsis
When a police investigator is killed execution-style and Blix's own daughter is targeted by the killer, he makes a dangerous decision, which could cost him everything. Blix & Ramm are back in a breathless, emotive thriller by two of Norway's finest crime writers...
When police investigator Sofia Kovic uncovers a startling connection between several Oslo murder cases, she attempts to contact her closest superior, Alexander Blix before involving anyone else in the department. But before Blix has time to return her call, Kovic is shot and killed in her own home - execution style. And in the apartment below, Blix's daughter Iselin narrowly escapes becoming the killer's next victim.
Four days later, Blix and online crime journalist Emma Ramm are locked inside an interrogation room, facing the National Criminal Investigation Service. Blix has shot and killed a man, and Ramm saw it all happen.
As Iselin's life hangs in the balance, under-fire Blix no longer knows who he can trust ... and he's not even certain that he's killed the right man...
Two of Nordic Noir's most brilliant writers return with the explosive, staggeringly accomplished, emotive third instalment in the international, bestselling Blix & Ramm series ... and it will take your breath away.
About This Edition
| | |
| --- | --- |
| ISBN: | 9781914585005 |
| Publication date: | 17th February 2022 |
| Author: | Thomas Enger & Jørn Lier Horst |
| Publisher: | Orenda Books |
| Format: | Paperback |
| Pagination: | 276 pages |
| Collections: | |
| Primary Genre | Crime and Mystery |
| Other Genres: | |
| Recommendations: | |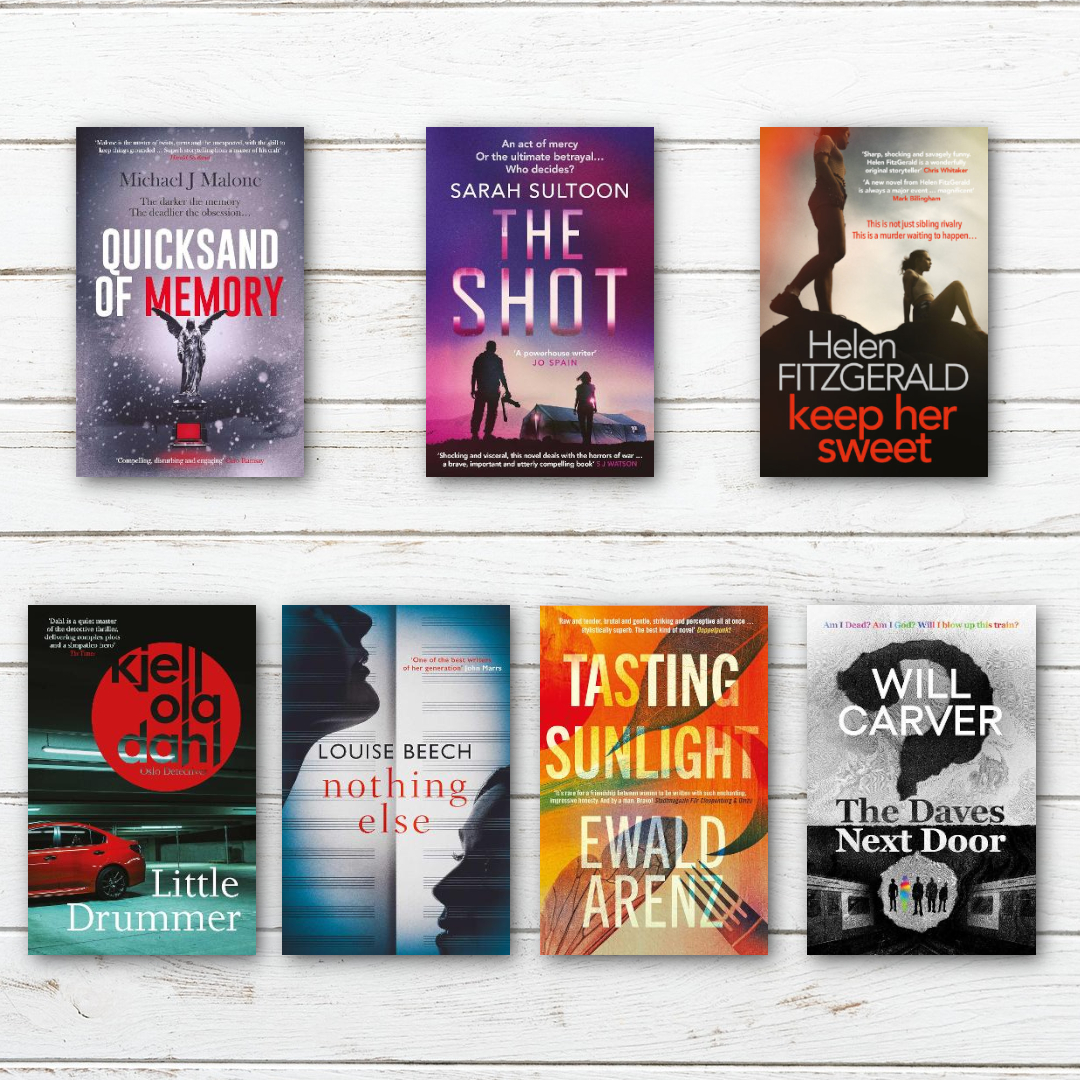 We're teaming up once again with Orenda to offer another brilliant book giveaway! This book bundle will include some of their latest releases from April to July. A perfect opportunity to stock up on some brilliant reads to enjoy this summer. The titles up for grabs are: Quicksand of Memory by Michael J. Malone - Published 14th April The Shot by Sarah Sultoon - Published 28th April Keep Her Sweet by Helen Fitzgerald - Published 26th May Little Drummer by Kjell Ola Dahl - Published 26th May Nothing Else by Louise Beech - Published 23rd June Tasting Sunlight by Ewald Arenz - Published 23rd June The Daves Next Door by Will Carver - Published 21st July This draw is open only for UK residents currently in the UK and is free to enter, multiple entries from the same email address will only be counted once. The draw closes on 31st July 2022. Please ensure that the details you use to enter the competition will be correct at the time the competition ends. The winners will be notified as soon as possible.
What To Read After Unhinged
Thomas Enger & Jørn Lier Horst Press Reviews
Praise for the Blix & Ramm series
'Grim, gory and filled with plenty of dark twists ... There's definitely a Scandinavian chill in the air with this fascinating read' Sun
'Alongside Jo Nesbo's Knife, Smoke Screen is this summer's most anticipated read, and it doesn't disappoint' Tvedestrandsposten, Norway
'Everything about this crime novel sings, the relationship between Blix and Emma, which is complex, but also the relationship between Blix and Fosse and Kovic. The past bleeds into the present and the clever melding of the strands of the story and the slow reveal of details that propel the story is masterly. This tale often surprises or shifts in subtle ways that are pleasing and avoid cliche. As the opener for a new series this is a cracker, long live the marriage of Horst and Enger' New Books Magazine
'A fast-moving, punchy, serial killer investigative novel with a whammy of an ending. If this is the first in the Blix and Ramm series, then here's to many more!' LoveReading
'A clever, gripping crime novel with personality, flair, and heart' Crime by the Book
'A stunningly excellent collaboration from Thomas Enger and Jorn Lier Horst .... It's a brutal tale of fame, murder, and reality TV that gets the pulse racing' Russel McLean
'Now what happens when you put two of the most distinguished writers of Nordic noir in tandem? Death Deserved by Thomas Enger and Jorn Lier Horst suggests it was a propitious publishing move; a ruthless killer is pursued by a tenacious celebrity blogger and a damaged detective' Financial Times