LoveReading Expert Review of A Thing With Feathers
A contemporary story of soulmate love set against the unusual backdrop of the Ithaca County Public Law Library. Jonah, the lead character in 'A Thing With Feathers' is a bit melodramatic and endearing as he searches for meaning, literary inspiration and his great love.
The plot centres around two lawyers who feel deeply alienated from a corrupt legal system and decide to become law librarians who help the public by offering free legal information and research support in the Ithaca County Public Law Library. As with any community, the visitors and staff at the library are all distinct and unique, with their own problems, flaws and circumstances.
The author's love of literature and research comes through as references to great literary works and creators such as Poe and Emily Dickinson are threaded through the narrative. It almost makes you feel like you're learning as you read and most definitely inspires you to go back and revisit your own favourite poets and poems.
There's humour and heart in this story and I enjoyed reading it. I understand that 'A Thing With Feathers' is in part inspired by the author's own experience of the law profession and his knowledge of the subject matter shines through in a believable setting and context for Jonah and Julia to meet. I liked Jonah and found myself eager to read on to see if he would find his modern-day Emily Dickinson. A great read for fans of literary fiction.
A Thing With Feathers Synopsis
Jonah, a forty-year-old lawyer and wannabe writer, disgusted with the nonstop corruption in the legal profession in Washington, D.C., quits the practice of law, loses his girlfriend, and becomes suicidal. Haunted by dreams and visions of Edgar Allan Poe and Emily Dickinson dancing together, he comes to believe Fate has a plan for him, however. As finances get desperate, he takes a low-paid job as a reference librarian in a law library. But there is one catch: he must pretend to be gay, as the twin tyrants of County Bar, Superintendent Crawford and Law Librarian Mimi Streeter, hire only submissive gay men and women financially on the edge, to control them. Despite moral reservations, he agrees to attempt the ruse, but when the tyrants realize they have been deceived, they respond in kind to protect their criminal fiefdom. Streeter and Crawford hire, on the sly, twenty-seven-year-old Julia, a much younger woman lawyer in library science school, as Jonah's superior, with the expectation he'll will quit in FU resentment. The plan backfires when romance ensues as the lovers tentatively test the theory that the one is a soulmate for the other, that Poe and Dickinson might have found one another, albeit in the 21st century. But Crawford and Streeter are not done with them yet... So begins the dark chess game, in which Jonah and Julia must fight to protect that which is most beautiful and dear to them, or be destroyed in the process.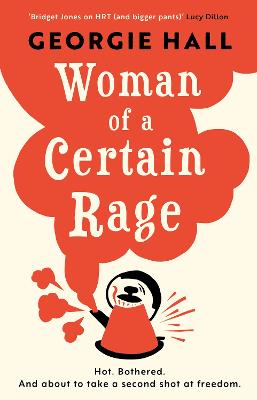 "We declare this divinely funny, warm, and engaging novel about navigating family life during the menopause a must-read." Liz Robinson, Expert Reviewer To celebrate the release of Woman of a Certain Rage by Georgie Hall we're teaming up with Head of Zeus to offer you the chance to win a copy of the book! This draw is open only for UK residents currently in the UK and is free to enter, multiple entries from the same email address will only be counted once. The draw closes on 8th August 2021. Please ensure that the details you use to enter the competition will be correct at the time the competition ends. The winners will be notified as soon as possible.
What To Read After A Thing With Feathers
A Thing With Feathers Reader Reviews
In addition to our Lovereading expert opinion some of our Reader Review Panel were also lucky enough to read and review this title.
A great debut novel, A Thing With Feathers by J John Nordstrom was an enjoyable read with many poetical references and set in a legal library, an unusual place for romance to bloom!
A Thing With Feathers by J. John Nordstrom is an unusual book and a lovely debut novel. It combines the author's knowledge of lawyers and his obvious love of poetry coming together against a background of a legal library and evil bosses. Johan is a hopeless romantic with a fixation about Emily Dickinson which he transfers to Julia. Julia seems to have mental health problems and is easily led by her boss to try and get rid of Johan so the library can be run by all women. She struggles to find a good enough reason to get him fired however as comes to light as the story progresses.
I will say some of the quotes were a little beyond me and I did skip some of the poetry as it was a bit over the top in my opinion, I'm sure others will love this aspect. I didn't like the ending particularly as it finished with nothing being solved and leaves you wanting to know what happened to Julia and Johan. Maybe there's a sequel that I don't know about!