LoveReading Expert Review of Diary of a Young Naturalist
A diary which highlights our essential connection with the natural world, the landscape and our history embedded within it - but more importantly, it is also about our futures
Diary of a Young Naturalist recounts a year in the life of an autistic and highly gifted 15 year old, struggling with school, bullies, moving house and fearing the decline of the natural world whilst rejoicing in it. Dara McAnulty is clearly an extraordinary person and a beautiful and mature writer. His descriptions of his adventures in nature are inspiring for children, but also sure to brighten the souls of many an adult too.
The intensity with which nature presents itself to the author is overwhelming, and his ability to share this with the reader is enthralling. It's a rollercoaster ride being in the head of this young man, but the book has the magic to open our eyes and ears to what beauty is around us each and every day - if only we looked!
McAnulty's knowledge of wildlife and nature is simply extraordinary. His autism is a burden but also a super-power, providing him with piercing insight to a world that simply cannot be ignored with all its truth, tragedy and hope pouring out of every hedgerow, pond and dry stone wall.
This is a diary which highlights our essential connection with the natural world, the landscape and our history embedded within it - but more importantly, it is also about our futures. Dara McAnulty is on a mission, and if the quality of this book is anything to go by, he will have a huge impact. For many children, this book will be the beginning of a wondrous journey. ~ Greg Hackett
Greg Hackett is the Founder & Director of the London Mountain Film Festival
Diary of a Young Naturalist Synopsis
Winner of the 2020 Wainwright Prize, Diary of a Young Naturalist chronicles the turning of Dara McAnulty's world, from spring to summer, autumn to winter, on his home patch, at school, in the wild and in his head.
Evocative, raw and beautifully written, this very special book vividly explores the natural world from the perspective of an autistic teenager juggling homework, exams and friendships alongside his life as a conservationist and environmental activist. With a sense of awe and wonder, Dara describes in meticulous detail encounters in his garden and the wild, with blackbirds, whooper swans, red kites, hen harriers, frogs, dandelions, skylarks, bats, cuckoo flowers, Irish hares and many more species. The power and warmth of his words also draw an affectionate and moving portrait of a close-knit family making their way in the world.
"I was diagnosed with Asperger's/autism aged five ... By age seven I knew I was very different, I had got used to the isolation, my inability to break through into the world of talking about football or Minecraft was not tolerated. Then came the bullying. Nature became so much more than an escape; it became a life-support system. ... In writing this book I have experienced challenges but also felt incredible joy, wonder, curiosity and excitement. In sharing this journey my hope is that people of all generations will not only understand autism a little more but also appreciate a child's eye view on our delicate and changing biosphere." Dara McAnulty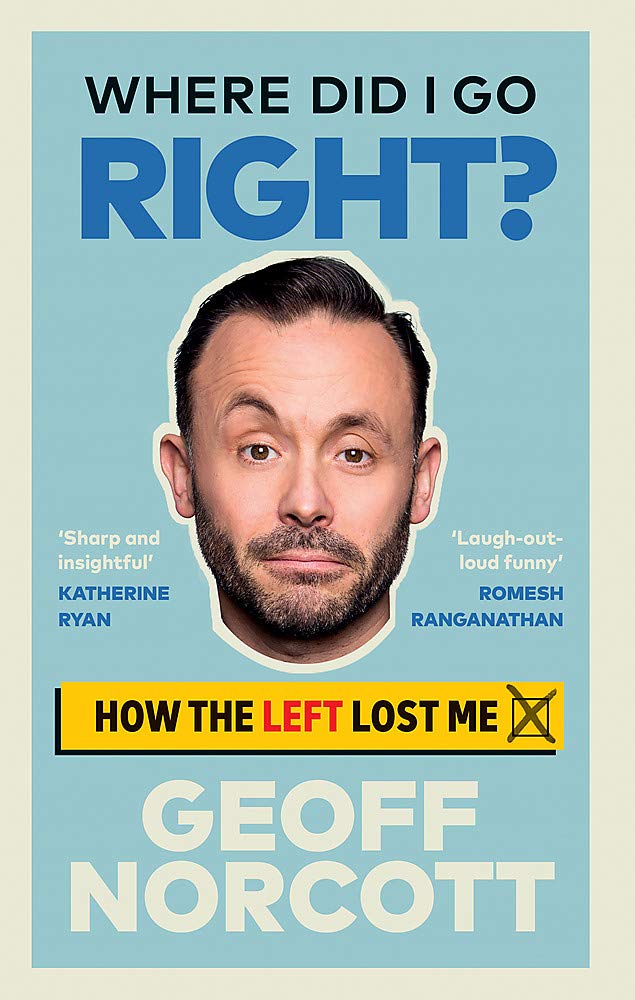 We are giving away 5 copies of Geoff Norcott's "Funny, thought-provoking account of how a working-class lad raised on a council estate wound up voting Tory." Joanne Owen, Expert Reviewer 'Where Did I Go Right? How The Left Lost Me'. This draw is open only for UK residents currently in the UK and is free to enter, multiple entries from the same email address will only be counted once. The draw closes on 20th June 2021. Please ensure that the details you use to enter the competition will be correct at the time the competition ends. The winners will be notified as soon as possible.
Like For Like Featured Books
Dara McAnulty Press Reviews
This book is very pertinent. It's a diary but essentially timeless. It's about enduring, it's about passion, beauty and connection. It's really, really special Chris Packham
Our planet and its wildlife are in a dire state, but if anyone can help save them, Dara can - and he's bringing our generation along with him. Bella Lack
His portrait of loving parents raising three neurodivergent children on poetry, punk and puffins is profoundly moving. Alex Preston, The Observer
Rich poeticism courses through the writing that belies his years. Hilary A White, Irish Independent
Like reading William Blake or Ted Hughes, it really is a strange and magical experience...surely one of the most talked about nature books, or any books, this year. The Daily Mail
I adored it. Lauren St John
'...the fanfare is wholly justified: this is an astonishingly assured book for one so young.' Caroline Sanderson, The Bookseller (Non-fiction Book of the Month, June 2020)
This lovely and remarkable book. Charlotte Moore, The Spectator
an extraordinary voice and vision: brave, poetic, ethical, lyrical. Robert Macfarlane
Breathtaking. Philip Marsden
McAnulty's writing glows with his deep sympathy for the natural world Tim Flannery