LoveReading View on Honey & Co: At Home Middle Eastern recipes from our kitchen
Gorgeous, lovingly chosen Middle Eastern recipes which are not only delicious, they also feel accessible to a home cook. Sarit Packer and Itamar Srulovich own two restaurants and a deli, all within a short distance of each other in London. These are the recipes they cook at home, there's a wonderful explanatory chat before each recipe which connects to thoughts and feelings, the food love is visible, and it is passed on with an abundance of warmth and generosity. The cover while warm and welcoming only hints at the delicious recipes contained within. The photos contained inside by Patricia Niven are quite glorious, eye-popping colours burst from the page with one or more photo for every dish. I love how the book is divided, you can either chose from selections such as 'us two, for friends, for a crowd' or the more traditional examples of 'salads and sides, bakes, vegetarian, main meals, and more'. When I first opened the book and started reading the recipes, I was surprised out how many I wanted to actually try, normally one or two leap forth, here oodles of them called out to me. The mushroom scrambled eggs is a perfect example of a simple dish made special with just a few extra ingredients such as a cinnamon stick, it is soooo yummy… and although fairly simple, it's not something I'd ever have considered doing without the recipe. I loved the cooking tips in Honey & Co at Home, all simply explained yet descriptive enough for me to follow easily. I sat staring at the baked goat cheese wrapped in walnut pastry with fig relish, my mouth is still watering, that's definitely next on my cook list!
Honey & Co: At Home Middle Eastern recipes from our kitchen Synopsis
Brought to you by the award-winning chefs behind the Honey & Co. empire, Sarit Packer and Itamar Srulovich present simple and delicious Middle Eastern dishes that are easy to make and a pleasure to serve. From breads to bakes, salads to sweets, there is something for everyone in this celebration of Middle Eastern cooking. Wholesome, fresh and seasonal ingredients are organised into chapters For Us Two, For Friends, For the Weekend, For a Crowd and The Kitchen. Enjoy authentic recipes like Jerusalem sesame bread filled with harissa and lemon chicken, tuck into a crisp salad with saffron-poached pears with walnut tahini, or delight in a fish pastilla or a rabbit stifado, among many more. The mouth-watering recipes featured in this book are quick and simple to make. Whip them up for lunch or a weekend meal without forward planning, special ingredients or fancy equipment - these will quickly become staple recipes that you, friends and family will revisit again and again. Packed full of stylish and stunning photography, At Home takes Sarit and Itamar out of the restaurant kitchen and into their home, and is filled with the stories in food that mean the most to them. The recipes and surrounding text is written from the heart with affection for the food they love.
Honey & Co: At Home Middle Eastern recipes from our kitchen Press Reviews
Just the sort of food I want to eat: welcoming, abundant, and with as much heart as flavour. -- Nigella Lawson - Nigella Lawson Cookbook Corner
Already at the top of our wishlist. -- House & Garden Online - Book Review
Packed with delicious dishes that shout 'make me!' -- The Daily Telegraph - Book Review
Delicious recipes for different occasions -- Sunday Express - Book Review
If you loved this, you might like these...
All versions of this book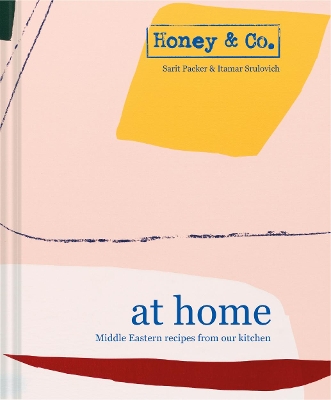 ISBN: 9781911595663
Publication date: 05/07/2018
Publisher: Pavilion Books
Format: Hardback
About Sarit Packer, Itamar Srulovich
Sarit Packer and Itamar Srulovich opened Honey & Co. in 2012, launching their restaurant Honey & Smoke and deli Honey & Spice close behind. Cooking and baking since she was five, Sarit trained at Butler's Wharf, at the Orrery under Chris Galvin, J Sheekey, The OXO Tower, Ottolenghi and Nopi. Itamar Srulovich was born and raised in Jerusalem. Cooking since the age of five and leaving a great mess in the kitchen ever since, Itamar trained on the job in various places in Tel-Aviv where he met Sarit. Honey & Co The Cookbook (2015) was named Cookbook of the Year by The ...
More About Sarit Packer, Itamar Srulovich