LoveReading Expert Review of At the Edge of the Orchard
In her last novel, The Last Runaway, Tracy Chevalier returned to her American roots for the first time, setting her story on the Ohio frontier in 1850. At the Edge of the Orchard opens in similar circumstances: James Goodenough, whose family had originally settled in Connecticut from England brings his family to Ohio to carve out a new life for them in the Black Swamp in 1838. His ancestors had brought a graft of an Orange Pippin and James – via regular encounters with Jonny Appleseed – has done so too, setting himself ultimately on a course against his wife Sadie. As swamp fever gradually picks off their children and they wrestle daily with survival, Sadie wants nothing more than to lose herself in applejack, made from the 'spitter' trees that James rejects and attempts to civilise and graft into 'eaters', and particularly into his precious pippins. This course will see their family engulfed in tragedy and fifteen years later we pick up with their youngest son, Robert who has been running west since the trying to escape his memories of what happened, taking solace in a very different kind of tree – the redwoods and sequoias of California. But Robert's past catches up with him and he's forced to confront what he's running from and work out for himself that you can't run for ever. A fascinating insight into early American life written with Tracy's trademark style and panache. ~ Sarah Broadhurst
At the Edge of the Orchard Synopsis
The sweeping and compelling new novel from the bestselling author of Girl with a Pearl Earring. 'Dark, brutal, moving, powerful' Jane Harris 'A wonderful book; rich, evocative, original. I loved it' Joanne Harris What happens when you can't run any further from your past? Ohio, 1838. James and Sadie Goodenough have settled in the Black Swamp, planting apple trees to claim the land as their own. Life is harsh in the swamp, and as fever picks off their children, husband and wife take solace in separate comforts. James patiently grows his sweet-tasting 'eaters' while Sadie gets drunk on applejack made fresh from 'spitters'. Their fighting takes its toll on all of the Goodenoughs - a battle that will resonate over the years and across America. Fifteen years later their youngest son, Robert, is drifting through Goldrush California and haunted by the broken family he fled years earlier. Memories stick to him where mud once did. When he finds steady work for a plant collector, peace seems finally to be within reach. But the past is never really past, and one day Robert is forced to confront the brutal reason he left behind everything he loved. In this rich, powerful story, Tracy Chevalier is at her imaginative best, bringing to life the urge to wrestle with our roots, however deep and tangled they may be.
About This Edition
| | |
| --- | --- |
| ISBN: | 9780007350407 |
| Publication date: | 23rd February 2017 |
| Author: | Tracy Chevalier |
| Publisher: | The Borough Press an imprint of HarperCollins Publishers |
| Format: | Paperback |
| Pagination: | 336 pages |
| Primary Genre | Modern and Contemporary Fiction |
| Other Genres: | |
| Recommendations: | |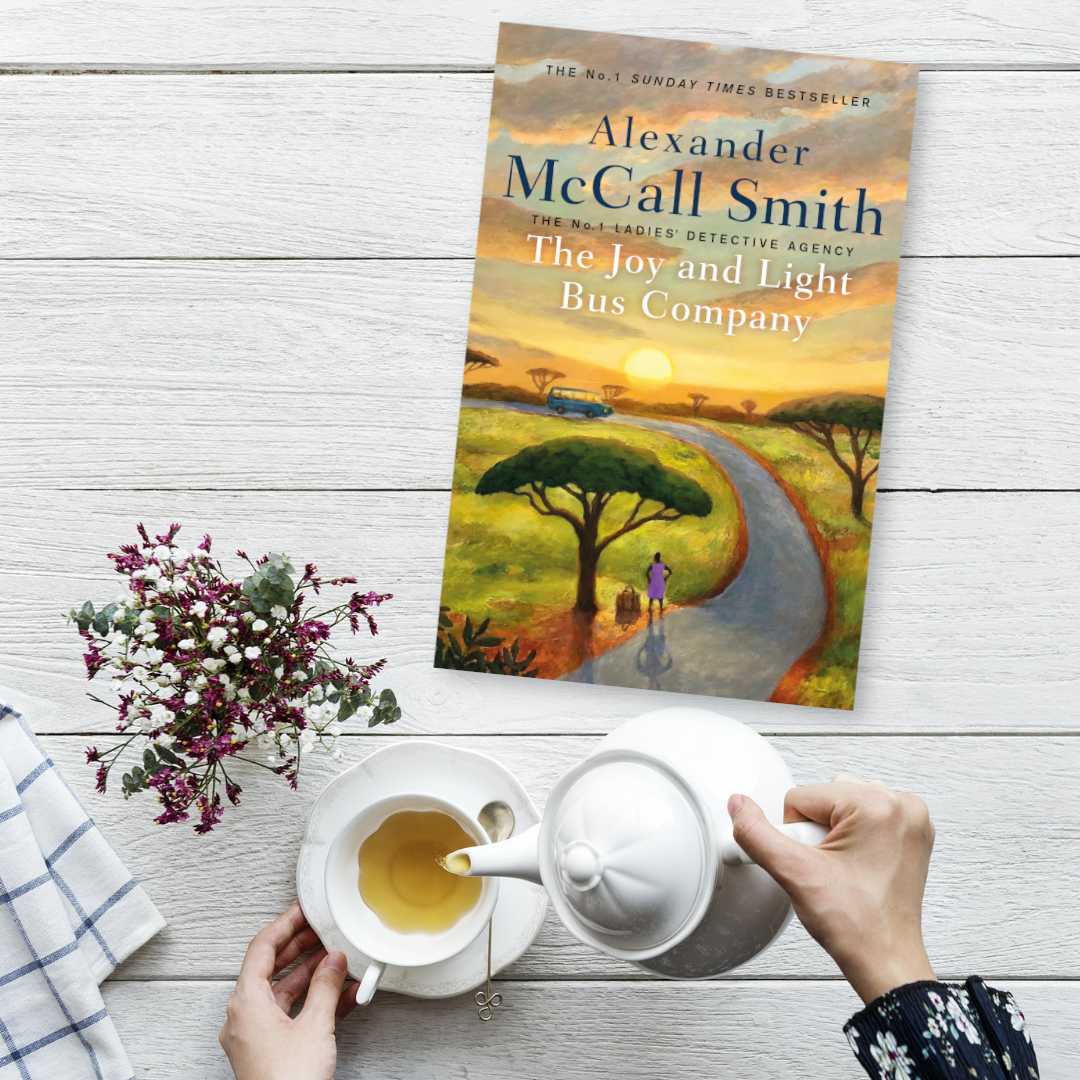 The latest instalment of the No.1 Ladies' Detective Agency sees Mma Ramotswe return to take on a mystery much trickier than it initially appears. To celebrate the release of The Joy and Light Bus Company by Alexander McCall Smith, we are working with Little, Brown Book Group in order to offer you a chance to win a hardback copy of the book and a Fortnum's Tea Basket. This draw is open only for UK residents currently in the UK and is free to enter, multiple entries from the same email address will only be counted once. The draw closes on 7th October 2021. Please ensure that the details you use to enter the competition will be correct at the time the competition ends. The winners will be notified as soon as possible.
What To Read After At the Edge of the Orchard
At the Edge of the Orchard Reader Reviews
In addition to our Lovereading expert opinion some of our Reader Review Panel were also lucky enough to read and review this title. You can click here to read the full reviews.
Richard Hamlin - 'narrative, gradually revealing key details in a subtle fashion, allowing the story to gently develop and grow...Its well told, evenly paced and was, for me, absorbing.'
Sarah Harper - 'Stunning, haunting and truly memorable, this story of hardship and resilience, with its beautifully imagined apple trees and giant sequoias, will transport you effortlessly to another place and time.'
Linda Hill - 'At the Edge of the Orchard is another of Tracy Chevalier's books that I loved, admired and feel privileged to have read.'
Tracey Copeland - 'Again Tracy Chevalier has shown us another historical era and place, the moods and desperate times of these people up against this lifestyle.'
Hilary Stookes - 'Tracy Chevalier's meticulous research has paid off as she has woven fact and fiction together in this book, which takes the reader from the Black Swamp of Ohio across America to California in the 1800s.'
Jo-anne Atkinson - 'A new Tracy Chevalier book is a real treat and this is no exception. Exploring familial relationships, built upon the pioneer spirit and with a passion for nature this is a beautifully crafted novel.'
Janet Lambert - 'I was sucked into the black swamp from the first paragraph of this unique and absorbing tale and my destiny bound to that of Robert Goodenough as he searches for whatever it is that's missing from his life.'
Helen - 'This book describes one young mans struggle to come to terms with his past, what made him leave behind everything he loved and start a new life and the highs and lows he faces along the way.'
Dana Captainino - 'Tracy Chevalier does not disappoint. As with her other novels she demonstrates her supreme abilities as a writer with her flair for focusing down into the minutiae of a specific period and place in history.'
Sue Broom - 'A straightforward historical novel based in part on real events. The human elements to this novel paled compared with the fascinating detail about the trees.'
Jane Pepler - 'Chevalier's writing is, as ever, beautifully descriptive, but never wordy or boring. Chevalier writes about the natural world in an easy, fascinating way'
Angie Rhodes - 'This is an odd story, one that took a while to get going.'
Phylippa Smithson - 'If you ever wanted to know in great details how the apple industry was established in 1830s USA, this is for you. If you don't, perhaps move to a different book on the shelf.'
Lou Woods - 'This book brilliantly captures the spirit of adventure and hope found in setting out for a new life, and the harsh reality of where that adventure might take you.'
Fiona Rothery - 'This is such an original and powerful novel, I loved it! The author brings to life the people who bravely travelled to new areas, experiencing new sights, tastes and experiences,'
Josie Barton - 'There is no doubt that, in the hands of this imaginative writer, this unique journey of self-discovery is both heart-breaking and uplifting in equal measure.'
Edel Waugh - 'The story is beautiful and tragic, truly grim at times, but Robert is resilient and does not let all the bad things in life keep him down...If you are a fan of the author already then I recommend this, if you are not then please pick this up!'
Jenny Duffy - 'A memorable and affecting read.'
Tracy Chevalier Press Reviews
Praise for At the Edge of the Orchard: 'Dark, brutal, moving, powerful
Jane Harris

'A wonderful book; rich, evocative, original. I loved it'
Joanne Harris

'It's her best since Girl with a Pearl Earring, telling the story both of America and a pioneer family with acuity, freshness and zest. I was captivated by it'
Amanda Craig Praise for The Last Runaway:

'I have always admired Tracy Chevalier's un-showy brilliance, and this moving story of a young English Quaker girl trapped between duty and conscience in 1850s Ohio is the best thing she's written since Girl with a Pearl Earring'
Rose Tremain
'The Last Runaway is a joy to read. Chevalier handles the intersection of two stories - those of pioneering Quakers and escaping slaves - with verve, imagination and, above all, compassion'Maggie O'Farrell

'By far her best book since Girl With A Pearl Earring if not better'
Amanda Craig

'Chevalier places her heroine at the heart, constructing a synergy between character and plot that makes this novel exquisitely complete... addictively compelling... Honor Bright deserves a sequel'
THE TIMES

'Her best since Girl With a Pearl Earring... as a serious novel about a genuine moral dilemma, it is highly recommended'
THE INDEPENDENT

'Chevalier immerses herself in period and place. Her research, as always, is meticulous and lightly worn... an entertaining read'
THE GUARDIAN

'A gripping and potent novel which shows Chevalier at the height of her powers'
THE EXPRESS

'Tracy Chevalier has found a subject that both fascinates and moves her and the result is this quietly powerful and gripping novel'
THE MAIL
Other editions of this book
About Tracy Chevalier
Tracy Chevalier is the author of six previous novels, including the international bestseller Girl with a Pearl Earring, The Virgin Blue, Falling Angels, The Lady and the Unicorn, Burning Bright and Remarkable Creatures. Born in Washington, DC, she moved to London in 1984, where she lives with her husband and son. The film of Girl with a Pearl Earring, starring Colin Firth as Vermeer, was released in the UK in January. It was nominated for 10 BAFTAs and two Academy Awards. Photograph © Eammon McCabe
More About Tracy Chevalier