Malala The Girl Who Stood Up for Education and Changed the World Synopsis
She's a girl who loves cricket, gossips with her best friends, and, on the day of the shooting, nearly overslept and missed an exam. A girl who saw women suddenly banned from public, schools blown up, the Taliban seize control, and her homeland descend into a state of fear and repression. This is the story of her life, and also of her passionate belief in every child's right to education, her determination to make that a reality throughout the world, and her hope to inspire others.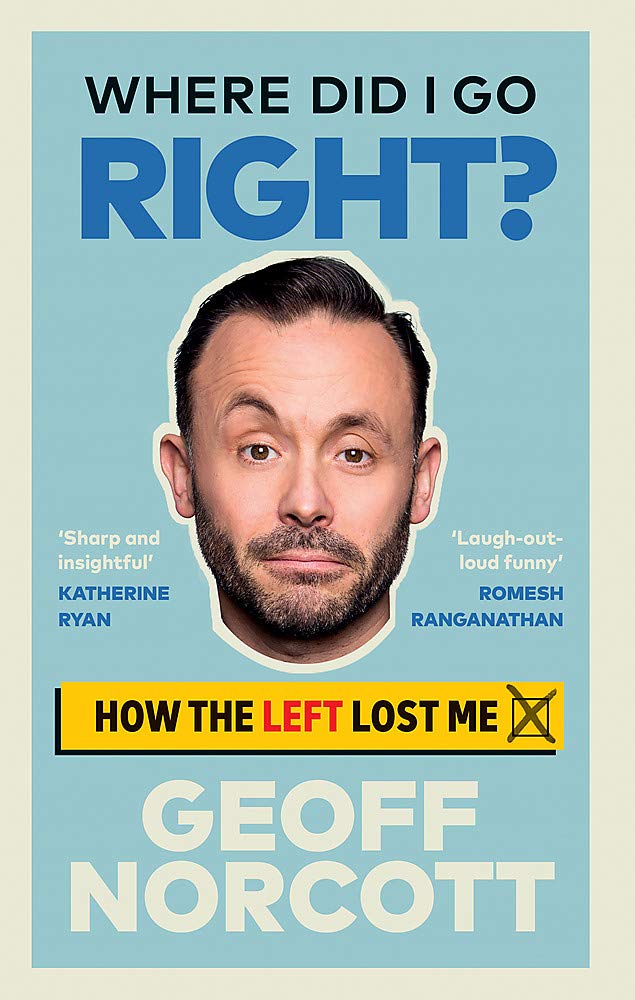 We are giving away 5 copies of Geoff Norcott's "Funny, thought-provoking account of how a working-class lad raised on a council estate wound up voting Tory." Joanne Owen, Expert Reviewer 'Where Did I Go Right? How The Left Lost Me'. This draw is open only for UK residents currently in the UK and is free to enter, multiple entries from the same email address will only be counted once. The draw closes on 20th June 2021. Please ensure that the details you use to enter the competition will be correct at the time the competition ends. The winners will be notified as soon as possible.
Like For Like Featured Books
Malala Yousafzai, Patricia McCormick Press Reviews
A storyof courage, conviction and determination that right will always win in the end Carousel The amazing story of Malala's courage and her fight for the education of girls is well known. Here, in her own voice, she tells of her journey from her early days as a clever school girl to her exceptional life as an international speaker on the rights of girls to get an education. Growing up in a village in the Swat valley in Pakistan Malala and her friends faced persecution from Islamic fundamentalists who believed women should not be educated. In 2012, Malala and her two school friends were targeted and shot when travelling home from school one day. Fortunately, Malala and her friends survived. From that day on, Malala campaigned for the rights of all girls to get an education. Hearing her tell her story is inspirational. -- Julia Eccelshare LOVEREADING Malala's down to earth way of telling her story opened my heart. Her voice is all the more powerful coming from one so young. KIDS BOOK REVIEW Firstly, I would like to start off by saying that this was the most inspiring autobiography I have ever read... I would recommend anyone to read this book because it really opened my eyes and made me more aware of what atrocities were happening in the outside world. This book takes its reader on a roller-coaster of emotions from happiness to sadness, from shock to relief. It is an easy read and really worth reading.I would give it five stars out of five because it was just amazing, fascinating and extremely interesting. -- Ayesha GUARDIAN TEEN BOOKS This is one of the two non-fiction books I now own, it'll be placed next to my copy of Anne Frank's Diary on my ever overflowing bookshelves. THE SLEEPY BOOK NERD Malala: The Girl who Stood up for Education and Changed the World is a book I'd really recommend to anybody and everybody. It's such an important read: It's inspirational, influential and moving - but incredibly informative too, because before I'd seen very little about all of the shocking events that happened in Pakistan. Patricia McCormick and Malala are visibly both incredibly talented writers - and this book will definitely stay with me for a long time. It's incredibly hard to do this book justice in a review... This definitely isn't a title you'll want to miss! THE BIBLIOMANIAC A true story of love, loss and tremendous courage, showing how a single voice can change the world. -- CaraErica GUARDIAN TEEN BOOKS

Other editions of this book
About Malala Yousafzai, Patricia McCormick
Malala Yousafzai was born in 1997 in the Swat Valley of Pakistan which she saw transformed from a beautiful and peaceful land to a place of fear and repression under the control of the Taliban. Malala now lives in Birmingham, England, and says she has been given a second life, which she intends to devote to her belief that children everywhere deserve an education. The fund she started can be found at malalafund.org. Patricia McCormick is a two-time NATIONAL BOOK AWARD finalist and the author of several critically acclaimed books for young adults, including SOLD, an account of human trafficking ...
More About Malala Yousafzai, Patricia McCormick