LoveReading Expert Review of Waterlog A Swimmer's Journey Through Britain
April 2014 Guest Editor Nicci French on Waterlog.

Roger Deakin set out to swim his way through the British Isles: an icy, salty, weedy, murky journey in seas, lakes, rivers, canals, moats, even ditches. The result is a frog's eye view of strange and wonderful places. It's also a glorious tribute to the act of wild swimming, which for him (and for me) is a way to find freedom, exhilaration and peace.
Waterlog A Swimmer's Journey Through Britain Synopsis
Roger Deakin set out in 1996 to swim through the British Isles. The result a uniquely personal view of an island race and a people with a deep affinity for water. From the sea, from rock pools, from rivers and streams, tarns, lakes, lochs, ponds, lidos, swimming pools and spas, from fens, dykes, moats, aqueducts, waterfalls, flooded quarries, even canals, Deakin gains a fascinating perspective on modern Britain. Detained by water bailiffs in Winchester, intercepted in the Fowey estuary by coastguards, mistaken for a suicude on Camber sands, confronting the Corryvreckan whirlpool in the Hebrides, he discovers just how much of an outsider the native swimmer is to his landlocked, fully-dressed fellow citizens. Encompassing cultural history, autobiography, travel writing and natural history, Waterlog is a personal journey, a bold assertion of the native swimmer's right to roam, and an unforgettable celebration of the magic of water.
About This Edition
| | |
| --- | --- |
| ISBN: | 9781784700065 |
| Publication date: | 18th May 2000 |
| Author: | Roger Deakin |
| Publisher: | Vintage |
| Format: | Paperback |
| Pagination: | 352 pages |
| Primary Genre | Biographies & Autobiographies |
| Other Genres: | |
| Recommendations: | |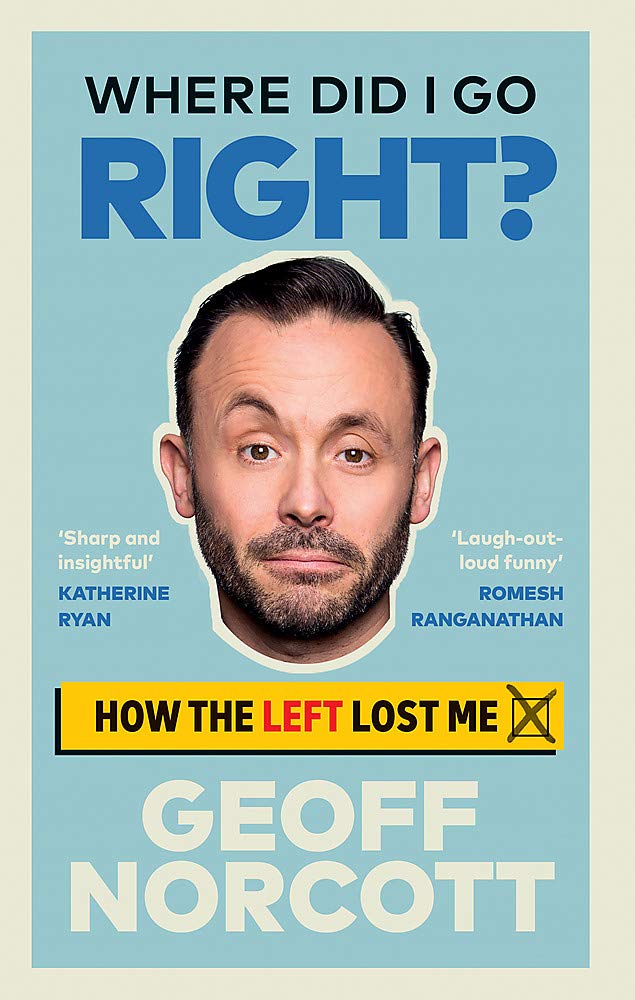 We are giving away 5 copies of Geoff Norcott's "Funny, thought-provoking account of how a working-class lad raised on a council estate wound up voting Tory." Joanne Owen, Expert Reviewer 'Where Did I Go Right? How The Left Lost Me'. This draw is open only for UK residents currently in the UK and is free to enter, multiple entries from the same email address will only be counted once. The draw closes on 20th June 2021. Please ensure that the details you use to enter the competition will be correct at the time the competition ends. The winners will be notified as soon as possible.
Like For Like Featured Books
Roger Deakin Press Reviews
'A delicious, cleansing, funny, wise and joyful book, so wonderfully full of energy and life. I loved it' -- Jane Gardam
'Highly entertaining...Waterlog is a book about a cold, wet subject written with a warmth and passion it surely deserves, but has rarely had before' Guardian
'A wonderful and romantic tale told by a true English eccentric...think Ratty, think Mole, think three men falling out of a boat...enchanting' -- Michele Roberts Financial Times
'A travel book like no other, it is rich and deep with insights on modern Britain' The Independent
This book deserves to become a classic. Waterlog is a vivid and sensual record of one man's immersion in the looking-glass world of Britain's waters, rivers, seas, lidos and locks; Deakin tastes them all in a private quest born from a daily swim in his Suffolk moat. Reflections on otters, the history of spas, the degradation of our chalk stream or birth of the crawl stroke - this is a brilliant and peculiar compelling catch-all, beaded with the moisture of the author's physical and psychological journey. A solitary as well as a natural subversive, vaulting private fishing fences and arguing with water bailifs in his bid to swim wild in a country devoted to denying such basic rights, Deakin's human encounters nevertheless remain as memorable as his watery ones. In liquid but never gushing prose, he plunges us time and again into icy, galvanizing currents, emerging on the knife-edge between aching and glowing. The book is also a discreetly impassioned plea for a change in our literally poisonous attitude towards Britain's waters, replete with health warning signs, chemical run-offs and sewage. Yet the ecology is never preaching; Deakin is all for the anachic flow and joie de vivre of a tumbling burn, as witnessed in the memorable scene of leather-clad Hell's Angels leaping off a vertiginous bridge into the lovely River Lune. If you don't yet know that the nearest thing to heaven is skinny-dipping in a cold, clean river, then read this book. It's about as invigorating too. Review by ADAM THORPE (Kirkus UK)
Other editions of this book
About Roger Deakin
Roger Deakin, who died in 2006, was a writer, filmmaker and environmentalist of international renown. He was a founder member of Friends of the Earth, and co-founded Common Ground. He lived for thirty-eight years in a moated farmhouse in Suffolk. Waterlog, which was first published in 1999, became a word-of-mouth bestseller, and is now an established classic of the nature writing canon.
More About Roger Deakin