Isabel Waidner has won the Goldsmiths Prize for their "mind-bending" novel Sterling Karat Gold, published by indie publisher Peninsula Press.
The Goldsmiths Prize was established in 2013 to celebrate the qualities of creative daring associated with the College and to reward fiction that breaks the mould or extends the possibilities of the novel form. The annual prize of £10,000 is awarded to a book that is deemed genuinely novel and which embodies the spirit of invention that characterizes the genre at its best.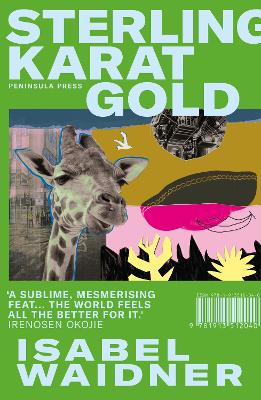 Described as "Kafka's The Trial written for the era of gaslighting", Waidner's third novel has won the £10,000 prize for innovative fiction.
Waidner was announced as the winner of the prize, which rewards mould-breaking "fiction at its most novel", at an online ceremony on 10th November.
Sterling Karat Gold is the third novel by the writer, critical theorist and creative writing lecturer. The novel follows main character Sterling, who is arrested one morning having done nothing wrong and is "plunged into a terrifying and nonsensical world". Sterling, with the help of their three best friends, must defy bullfighters, football players and spaceships to exonerate themselves and hold the powers that be to account.
The other shortlisted titles were:
Checkout 19 by Claire-Louise Bennett
Assembly by Natasha Brown
A Shock by Keith Ridgway
This One Sky Day by Leone Ross
little scratch by Rebecca Watson
Goldsmiths Prize 2021 chair of judges Dr Nell Stevens described Waidner as bringing "wit, swagger, playfulness and fury to an unfettered journey through an unjust justice system".
Judge and author Kamila Shamsie said: "Isabel Waidner collides the real and the mythic, the beautiful and the grotesque, to mind-bending effect. Time-travel constrained by the limitations of Google Maps and trials out of Hieronymus Bosch never out-dazzle the human heart in this novel of friendship, art, injustice and all that can be imagined and unimagined.
"From the first page, matadors in Camden seem entirely plausible and we wait to see what might be coming around the next corner. Waidner has a live, distinctive intelligence that pushes form to make us see the world around us in new ways—and perhaps even for the first time."
M John Harrison, who won the prize last year, described the book as "effortlessly referential, fluid and funny, endlessly inventive, furious and resistant".
Waidner is the author of three novels, editor of Liberating the Canon: An Anthology of Innovative Literature (Dostoyevsky Wannabe), and has published critical and creative writing in journals including AQNB, Cambridge Literary Review, the Happy Hypocrite, Tank Magazine and Tripwire. They have been shortlisted for the Republic of Consciousness Prize twice, and won the Internationale Literaturpreis in German translation for Gaudy Bauble (Dostoyevsky Wannabe).